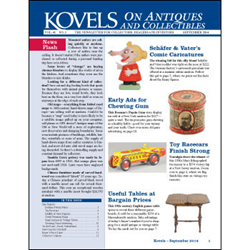 Cleveland, OH (PRWEB) September 01, 2014
Comic Schäfer & Vater porcelain figurals are featured in "Kovels on Antiques and Collectibles" September 2014 newsletter. More than 200 pieces—bottles, nodders, flasks, pitchers and more—were sold at the Arizona auction. See a silly blond woman nodder with a bug on her exaggerated nose that sold for $222 and a cartoonish red-headed pin holder that went for $138, as well as other figures with funny features or pithy phrases. A New York auction included more than a dozen antique and vintage advertising items urging people to buy gum. A Beeman's Pepsin Gum tin store display promoting gum chewing as a healthy habit—good for your tummy and your teeth—sold for $127. Kovels' September newsletter has pictures and prices of other chewing gum ads and displays from the auction. Close to 50 vintage toy racecars sold at a summer New Jersey auction. Many of today's collectors love the toys they played with and prices had a strong finish. Examples are featured in the September issue.
Toy rings that also conjured up childhood memories were sold in an online auction. They were originally offered decades ago as cereal premiums to fans of bygone radio or TV shows. The most expensive was a Superman secret chamber ring from a 1941 "drink milk" campaign that sold for $4,592. Other character rings are also pictured. Dedham Pottery's crackle glaze plates with blue and white border decorations of animals or flowers have been collector favorites since the first plate was designed in 1891. Dedham plates sold at a recent Massachusetts auction and are pictured with prices. And collectors interested in accent tables scored some bargains at another Massachusetts auction, where small, useful antique and vintage tables sold for very reasonable prices. Pictures, prices and descriptions of various styles are included in Kovels' September's newsletter.
Kim Kovel reports on her trip to the international art and design fair in Basel, Switzerland. New Uses for Old Stuff pictures a dog sculpture made from old toys. The popular illustrated Collector's Gallery answers readers' questions about an old washing machine, hedgehog dolls, a vintage craps table and a Rudolph Ackermann print. September's Dictionary of Marks lists marks used by American tile manufacturers. The Buyer's Price Guide has current prices of dozens of antiques and collectibles.
"Kovels on Antiques and Collectibles" is available as a print subscription or as a digital version that is part of the Kovels.com Premium subscription.
Terry Kovel is America's foremost authority on antiques and collectibles. She is the well-known columnist and author of more than 100 books on antiques and collecting. With her daughter, Kim Kovel, she co-authors the best-selling annual "Kovels' Antiques and Collectibles Price Guide." The all-new 2015 edition is now available. They will discuss antiques and collectibles topics with accredited media. Photographs are available. Contact pr(at)kovels.com.
About Kovels.com
Kovels.com, created by Terry Kovel and Kim Kovel, provides collectors and researchers with up-to-date and accurate information on antiques and collectibles. Kovels' Antiques was founded in 1953 by Terry Kovel and her late husband, Ralph. Since then, Kovels' Antiques has published some of America's most popular books and articles about antiques, including the best-selling "Kovels' Antiques and Collectibles Price Guide," now in its 47th edition. The Kovels' website, online since 1998, offers 900,000 free prices, and includes a free weekly email, "Kovels Komments." Kovels.com gives readers a bird's-eye view of the market through the latest news, auction reports, a Marks Dictionary, readers' questions with Kovels' answers and much more.
Contact Information:
Liz Lillis
216.752.2252
Pr(at)kovels(dot)com