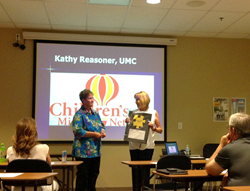 Lubbock, Texas (PRWEB) August 28, 2014
Children's Miracle Network (CMN) - many people have probably heard of it and have maybe seen the name associated with a local hospital. Or, maybe caught a glimpse of the sign riders that read "Miracle Home" on a home for sale listed with a RE/MAX agent. But what is Children's Miracle Network? What do they do and where does the money go that is raised for this organization?
CMN is an organization that began over 30 years ago that started as a small 21 hour telethon. More than 500 corporate sponsors participate in fundraisers and awareness campaigns. This provides life saving research, cutting edge equipment and specialized care for over 17 million children.
Through the amazing support of the people in our community that give so generously, along with the RE/MAX agents working the fundraisers, RE/MAX Lubbock has cumulatively raised $70,000 for The Children's Miracle Network at UMC's Children's Hospital. That's the best part of all, every dollar raised through these efforts stay in Lubbock to fund our local CMN hospital.
At a recent staff meeting, Kathy Reasoner with Lubbock's UMC hospital presented RE/MAX Lubbock Realtors with a plaque to recognize the agents for their generous contributions to the hospital. These funds were raised primarily through the honor cards. When the sale of a "Miracle Home" is completed, the seller's or buyer's of the home get a card from the Children's Miracle Network letting them know that their Realtor has made a contribution in honor of them.
RE/MAX Lubbock is so grateful to be a part of such an amazing charity that funds hospitals that really do work miracles for the precious lives that they treat.