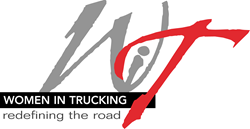 "I want to see how Wisconsin's regulations, road repairs, even rest areas have affected drivers."WisDOT Secretary Gottlieb
(PRWEB) August 26, 2014
This Friday, August 29, Secretary Gottlieb will share the cab with a highly qualified female driver, Lisa Buhrow. As a commercial OTR driver for Walmart, Buhrow hopes more women join her and consider the open road as a viable career choice.
"Jobs in the transportation industry today are plentiful, and it's important for me to see that the tools, training and technology that we have in place through the WisDOT are truly supporting this growing industry," said Sec. Gottlieb. "I want to see how Wisconsin's regulations, road repairs, even rest areas have affected drivers."
The ride along will begin at the Walmart store located on East Green Bay Avenue in Saukville, WI. The Secretary and Buhrow will then drive to the Walmart Distribution Center in Beaver Dam, WI.
WIT President, Ellen Voie, will also be participating in the Ride-Along event. Voie will be driven by Buhrow's husband Wayne, who is a Wisconsin Road Team member.
"Wisconsin's Department of Transportation plays an important role in preparing safe drivers for this growing profession. Having the Secretary ride with one of our driver members highlights the window of opportunity women have to a lucrative career," said Voie. She is also an active member of Wisconsin DOT Motor Carrier Advisory Committee.
Women In Trucking was established to encourage the employment of women in the trucking industry, promote their accomplishments and minimize obstacles faced by women working in the trucking industry. Membership is not limited to women, as sixteen percent of its members are men who support the mission. Women In Trucking is supported by its members and the generous support of Gold Level Partners: Bendix Commercial Vehicle Systems, LLC, Daimler Trucks NA, Great Dane Trailers, and Walmart. For more information visit http://www.WomenInTrucking.org or call 888-464-9482.