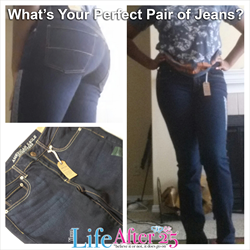 As a woman I know how important having the right pair of jeans can be. One jean can make up many fabulous outfits. I wanted to see what other women think make up the perfect pair of jeans.
Atlanta, Ga (PRWEB) August 27, 2014
Da Vinci, founder of Your Life After 25 blogazine, is on a mission to find out what women really want in their perfect pair of jeans.
To launch the "What's Your Perfect Pair of Jeans?" campaign, Your Life After 25 is giving lucky fans a chance to win a $50 American Eagle gift card. To enter, simply fill out the entry form here and don't forget to sign up for the monthly newsletter from August 27th until October 27th.
As a woman living her life after 25, Da Vinci, a popular Atlanta blogger, knows that when women grow older and their bodies change and finding the right clothing can become a bit more challenging. About 450 million jeans are sold in the U.S.A alone each year. On average, every American owns about 7 pairs of jeans. With the evolution of denim, many styles and options have become available, but this has also caused quite a bit of denim dilemmas.
Da Vinci used American Eagle's Denim to find her perfect pair of jeans based on a set criteria she made ahead of her purchase and now she would like to offer women everywhere the chance to share what they look for in their perfect pair. You can check out Da Vinci's denim experience here.