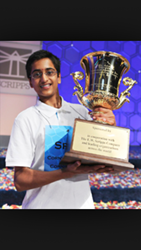 "We're going to provide a hands-on experience including simulated surgery and cutting edge ocular imaging tests for the family."
Philadelphia, PA (PRWEB) August 27, 2014
What's next for 14 year old Sriram Hathwar, the co-winner of this year's 87th Annual Scripps National Spelling Bee? Sririam will visit Philadelphia on Friday, August 29, 2014 for a tour of internationally renowned Wills Eye Hospital.
The teen from Painted Post, New York would like to be an ophthalmologist one day.
Wills Eye Ophthalmologist-in-Chief, Dr. Julia Haller will show Sriram simulated eye surgery and the latest hi-tech visual diagnostic testing. He will also tour historic Philadelphia and enjoy lunch with the residents, researchers and fellows to learn more about the field he said he wants to pursue as a future profession.
Upon learning of Sriram's interest in medicine and specifically, ophthalmology, Wills Eye reached out to the young achiever with a care package that included the Wills Eye Manual (a legendary guide book in ophthalmology,) along with other materials and treats including t-shirts for him and his brother.
"We want Sriram to see what world-class ophthalmology looks like," said, Dr. Julia Haller. "We're going to provide a hands-on experience including simulated surgery and cutting edge ocular imaging tests for the family," she added.
"My policy is that it's never too early to recruit a brilliant prospect! If Sriram decides to pursue ophthalmology, we hope he remembers his time at Wills Eye, and strongly considers the top residency program in the world – ours!" said Dr. Haller. "Language has always been a passion of mine. I'm looking forward to meeting the best speller in America."
The eighth grader won the shared title on the word "stichomythia" on May 29th, 2014. It was the first time in 52 years that there were two winners. This year's national championship drew 281 spellers from 8 countries that were competing for the top prize. Since winning, the spelling bee folks say the co-champions and other participants advancing onto the national event in DC are becoming a sort of "spellebrity."
Wills Eye Hospital is top ranked nationwide in ophthalmology according to US News & World Report's 2014-2015 Best Hospitals Guide and attracts patients from around the world. Wills Eye provides primary and subspecialty eye care including cataract, cornea, retina, glaucoma, neuro-ophthalmology, ocular oncology, oculoplastics, pathology, pediatric ophthalmology/ocular genetics and refractive surgery. Ocular services include the Wills Laser Correction Center, Lower Vision Service and Diagnostic Center. The 24/7 Eye Emergency Service is the only one in the region. The Wills Eye Ambulatory Surgery Network consists of nine- multi-specialty centers across PA, NJ and DE. To learn more, visit http://www.willseye.org, like us on Facebook and follow us on Twitter @wills_eye.