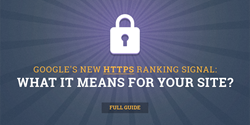 Setting up SSL connection on one's site is rather difficult from the technical point of view, not to mention that it involves additional costs.
(PRWEB) August 26, 2014
Allegedly striving to make the Web a safer place, Google announced they were going to start ranking websites that use HTTPS slightly higher on August 06, 2014. At the same time, Google said the new ranking signal was still a lightweight one, used in less than 1% of search instances - although the search engine plans to use it more widely in the future.
However, because many website owners are now considering to switch from HTTP to HTTPS, a known marketing software company, Link-Assistant.Com published a whitepaper that teaches one about HTTPS, talks about pros and cons of having an SSL website or webpages, and mentions which types of websites could be good candidates for the switch.
*A guide to HTTPS as a ranking signal*
According to Link-Assistant.Com, having HTTPS enabled on one's site has 3 major benefits:
1. Encryption (one's site is safe from eavesdropping)
2. Data integrity (SSL connection prevents one's data from being tampered with)
3. Authentication (allows one to be sure that each user is who they say they are)
Because HTTPS ensures secure exchange of data and eliminates eavesdropping, it's ideal technology for certain types of sites that deal with sensitive information and use personal data, and namely, e-commerce website, website that have a log-in system, and others.
Therefore, if one's website contains no sensitive data, using HTTPS may not be a necessity for it.
*The pros and cons of an HTTPS website*
Setting up SSL connection on one's site is rather difficult from the technical point of view, not to mention that it involves additional costs. Hence, one should likely think twice and weigh all the advantages and disadvantages prior to making the switch.
Advantages of having secured connection on a site include:

Low risk of data security breach
Compliance with industry standards (such as the PCI DSS)
Higher conversion rates due to the site appearing more trustworthy
Better brand image
Higher Google rankings
However, there are certain cons and difficulties associated with enabling HTTPS for one's site:
Additional costs
The need of a dedicated IP address
Website slowdowns
The danger of incorrectly redirecting an HTTP site to HTTPS
Loss of social signals
Certain plugins not working correctly with HTTPS
Problem displaying HTTP content
AdSense revenue drop (due to Google's AdSense guidelines)
A full explanation of these pros and cons is available in the original copy of the HTTPS guide at http://www.link-assistant.com/news/https-ranking-signal.html
*About Link-Assistant.Com*
Link-Assistant.Com is a software developer with nearly a decade's experience providing award-winning SEO software for bloggers, online entrepreneurs and marketing agencies. Launched in 2005, the Link-Assistant.Com business model was built around striving for innovation. Its marketing tools are used by over 500,000 users worldwide who reply on Link-Assistant.Com marketing toolkit - SEO PowerSuite - for their online success.