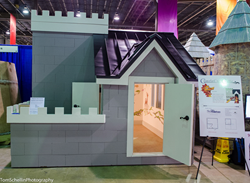 Camelot's Castle will be providing children with fun for a long time.
Charlotte, NC (PRWEB) August 28, 2014
Shea Custom (http://www.sheacustom.com) showcased their "Camelot's Castle" children's play house at the Southern Ideal Home Show in Charlotte August 22-24, 2014. The local chapter of NARI presented a Parade of Playhomes, where teams were invited to build their best play house within contest guidelines. A silent auction was held, and Shea Custom's playhouse raised $3,000. Their play house was chosen by WBT, Charlotte's News Talk radio station, as their choice to support "Camperships", which helps send underprivileged children to Camp Thunderbird.
Camelot's Castle play house has both interior and exterior play areas. A rope ladder leads to a turret, and there is a small courtyard that can be accessed from the interior. The inside of Camelot's Castle is decorated with vines, flowers, and a friendly dragon and a magic mirror.
When invited to build their castle, Shea Custom reached out to their TradePartners and asked for assistance with materials and labor, all to benefit local children's charities. They received a tremendous response, and were grateful to receive assistance by the following companies: Barefoot & Company, Color Outside the Lines, Custom Features, H & H Painting, J & L Chavez Framing, North & South Maintenance, The Building Center, Gateway Exteriors, Inc, Metrolina Waterproofing, and Huttig Building Products.
Charlie O'Melveny, Director of Operations at Shea Custom, commented, "The play house was designed to appeal to both boys and girls, and with all the fun paintings inside, we think we achieved that. The play house is very robust, with metal roofing and waterproofing in the tower; Camelot's Castle will be around providing children with fun for a long time. A big thanks to all our Trades who helped make this possible!"
View more photos of the play house by visiting http://www.sheacustom.com. Shea Custom offers custom homes and large scale renovations in the greater Charlotte area.
ABOUT SHEA CUSTOM
Shea Custom is owned and operated by Shea Homes of the Carolinas, an independent member of the Shea family of companies. Shea Custom offers large scale home renovations in the greater Charlotte area, in addition to building custom homes on customers' homesites. All Shea Custom estimates are free and require no obligation from the customer. To find out more and to see Before and After photos of recent projects, visit http://www.sheacustom.com.