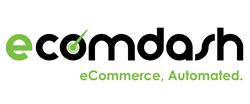 We're excited about the launch of ecomlister as an included application within the ecomdash suite of software tools.
Charlotte, NC (PRWEB) September 01, 2014
Ecommerce continues to grow at more than 3 times the rate of retail sales. New second quarter statistics reveal a record high for ecommerce sales. The Commerce Department estimates online sales totaled $75 billion in the second quarter; that's 6.4% of total retail spending.
The rapid rise of ecommerce sales has led to a growing need for tools that make it easier for ecommerce companies to manage the many aspects of their business simultaneously and from one central dashboard, including the ability to quickly list their products on marketplaces and new sales channels.
Ecomdash is responding to that need and has announced the release of a new listing tool, ecomlister. Whether sellers list one or hundreds of thousands of products, ecomlister allows them to quickly set up inventory, launch new product lines, sell on additional channels, control quantities, restock and re-list items as needed.
"We're excited about the launch of ecomlister as an included application within the ecomdash suite of software tools," said Darrin Kidd, Chief Technology Engineer at ecomdash. "We know how valuable this tool will be for sellers who need to quickly respond to the needs of the marketplace and list products as soon as they are available."
The feature makes listing products on Amazon and eBay easier and faster. Users are able to quickly manage current listings to make changes to title, descriptions, price and more. Once products are listed, ecomdash tracks all incoming and outgoing inventory, throughout the supply chain.
Ecomdash recently announced other enhancements including integrating with the Bigcommerce platform and implementing additional inventory automation capabilities for supplier and warehouse relationships.
About ecomdash
Ecomdash is a web software application enabling ecommerce sellers to run their business from anywhere at any time in a fraction of the time they spend today. The automated inventory, sales order and shipping management tool is designed specifically for businesses selling on multiple marketplaces and websites. Ecomdash gives online retailers the ability to save time, grow sales with an expanded online presence, and increase customer satisfaction. For more information visit ecomdash.com.