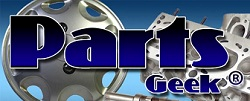 (PRWEB) August 28, 2014
General Motors Company (GM), designer and manufacturer of all GMC, Chevrolet, Buick and many other vehicle makes, has been on the radar a number of times this past August due to their ongoing safety recall issues. In fact, GM—for a third time this year—has had to recall certain model vehicles due to a door switch fire hazard as stated in this article: http://www.ibtimes.com/gm-recalls-buick-chevrolet-gmc-isuzu-saab-suvs-third-time-fix-door-switch-fire-hazard-1652944. One of the vehicle models that they have had to recall is the GMC Envoy model. As a midsize SUV, Envoys are ideal for both families and single drivers that value space, but also maneuverability. The professionals from Parts Geek know that owning a vehicle that is being recalled is frustrating, as other unforeseen issues with the vehicle may be found while it is being fixed. Therefore, those who desire affordable replacement parts for their Envoy will be pleased to know that Parts Geek has recently expanded their GMC Envoy inventory to feature over 3,100 products.
Once the recall issue is corrected, don't settle for allowing the dealership to fix any other problems using their own parts unless absolutely necessary. Instead, visit PartsGeek.com to browse through thousands of Envoy model auto parts and accessories that are up to 80% off the retail price. Some parts they currently have available include: air pumps, alternators, door window switch connectors, engine cooling fans, fog lights, TPMS sensors, mud flaps, and much more. Parts Geek also offers products from top brands such as Dorman, Action Crash, Centric, and Monroe.
High-quality parts are what will keep any vehicle running smoothly and efficiently. While offering affordable products is certainly what makes Parts Geek stand out from the crowd, they are also known for providing nothing but high-quality parts and great customer service. If one were to search for reviews for their GMC Envoy parts, he or she will find over 170 reviews, and a 4.9 out of 5 start rating. In fact, a recent reviewer who ordered a Dorman brand window regulator had this to say: "I found this to be extremely well built, easy to install and exactly what I needed. I'll say that if your motor is working well, then get this one without it attached. It's a great price. My regulator just happened to break apart one day, so I got this and couldn't be more pleased." To browse through their inventory of GMC Envoy parts, please visit their website today.
About the Company:
At Parts Geek, they offer the best and most competitive prices on imported and domestic car parts. They also offer automobile accessories, and many of their items ship quickly—all from warehouses scattered throughout the US. Customers can pick from thousands—if not millions, of new automotive parts, refurbished/rebuilt parts, and more from reliable and certified manufacturers. To learn more please visit http://www.partsgeek.com.