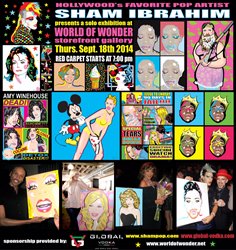 World of Wonder has always been my biggest supporter, so I'm excited and beyond grateful to join forces with them and present a fabulous art show, that will be an explosion of pop culture and modern day Hollywood glamour!
Hollywood, Calif. (PRWEB) August 27, 2014
World of Wonder Storefront Gallery, renowned home to pop art and pop culture revolution located at 6650 Hollywood Blvd, will reopen its doors to host pop artist Sham Ibrahim's much anticipated solo show. Opening night is scheduled for Thurs., Sept. 18, at 7:00 p.m., where many of Sham's celebrity friends are expected to attend the zany, red carpet affair. Just this past year, Sham has given personalized pop art portraits to stars Lindsay Lohan, Boy George, Carmen Electra, Lisa Vanderpump, Bobby Brown, Lynda Carter, Lisa Rinna, Lance Bass, Joyce Giraud, fashion legend Betsey Johnson and tabloid icon Courtney Stodden. The colorful and eccentric artist's upcoming show will feature portrait personalities of Duck Dynasty star Phil Robertson as a drag queen and Miley Cyrus "twerking" on Mickey Mouse. Older works in the mix will include the infamous four-panel piece featuring Rihanna's battered face, which caused a major media uproar with E! Entertainment and NBC news in 2009. The original artwork is printed on canvas and limited to ten prints per run. Each portrait is expected to sell for under five hundred dollars, so attendees interested in buying are advised to get to the gallery early on opening night.
Often described "as a modern day Andy Warhol", Sham's iconic portraits focus on the people and events that shape modern American pop culture. He attended the Academy Of Art in San Francisco to study Graphic Design and moved to Los Angeles shortly after. Because of his unique look and the availability of acting work in Hollywood, he found himself working in front of the camera at a young age to support himself. Booking gigs from playing a dying patient in the operating room on NBC's top rated hit show E.R. in 2003 to modeling for Steven Meisel in Vogue in 2004 and while working on film, television, and music video sets, Sham approached celebrities and gifted them portraits. Tori Spelling, Paris Hilton, Joan Collins, Ru Paul, Debbie Harry, La Toya Jackson, Janice Dickinson, Heidi Fleiss, and Tammy Faye all have personal portraits. Many of the aforementioned stars became close friends with Sham and big supporters of his art.
This year alone, Sham was hand-selected by Art Hearts Fashion to display his works during Style LA Fashion Week. His larger than life personality perfectly in tune with his craft has been filmed by BRAVO Television Network's upcoming seasons of "Vanderpump Rules" and "the Real Housewives of Beverly Hills". His portrait of Janice Dickinson currently hanging in her home recently appeared on E! Entertainment Television's hit show "Botched". Several of Sham's other portraits have recently been shipped to New York City per request of Producer/Actor Joel Michaely and Executive Producer/ Director Gus Van Sant. Sent in hopes of being part of an upcoming feature film directed by Justin Kelly, starring James Franco, Zachary Quinto and Emma Roberts, Sham's art currently canvases a plethora of creative circles.
World Of Wonder (WorldOfWonder.net) and its owners Fenton Bailey and Randy Barbato are now a well-established film and television production company known for major television hits such as Ru Pauls Drag Race, Tori and Dean, Million Dollar Listing, Candidly Nicole and a multitude of award-winning documentaries and films. Having opened gallery doors in 2007, Sham Ibrahim was the first artist to present his work at the gallery's first show. The unforgettable and hugely successful shows of "Just Britney"- an art show featuring nothing but artwork of Britney Spears and "Golden Girls Gone Wild" made quite the statement in Fine Art community. Sadly, the gallery shut its doors in 2009 and hasn't had a show since. Sham's Sept. 18 presentation, curated by World of Wonder's long time producer Thairin Smothers, will be the first art show at the storefront gallery in nearly 5 years!
For more information on pop artist Sham Ibrahim, please visit ShamPop.com or reach out to Kelly K Public Relations direct.