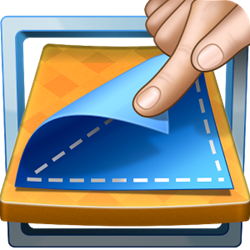 (PRWEB) August 27, 2014
The development team at FDG Entertainment recently published a two-page marketing brochure detailing the optimization of Paperama, the challenging paper-folding game, with Intel® Atom™ tablets for Android*. The detailed visuals and accompanying audio soundtrack are a great match for Android* tablets, and the compatibility allows the game's reach to expand to even more players.
The document describes the successful collaboration between FDG Entertainment and Intel that enables the Origami-style game and its challenging puzzles to be optimized for Android* tablets. The brochure elaborates on the advantages players can expect when using these devices to access the app, including the ability for sensitive and detailed paper-folding actions while playing the puzzles.
The powerful and versatile capabilities of Intel Atom tablets for Android* suit the game's attractive audio and visual environment perfectly. As an Intel® Software Partner, FDG Entertainment benefits from the advantages of a broad portfolio of technical and support services within the Intel® Developer Zone.
About FDG Entertainment GmbH & Co. KG
FDG Entertainment is a leading publisher of highly creative games for major platforms including iOS and casual game consoles. The company was founded in 2001 and is located in Munich, Germany. Having produced more than 40 critically acclaimed games, FDG won the International Mobile Games Award (IMGA 2011) in Barcelona for the Best Mobile Game 2011 with Beyond Ynth. To learn more, visit: http://www.fdg-entertainment.com/en/.
Intel, the Intel logo and Intel Inside are trademarks of Intel Corporation in the U.S. and/or other countries.
*Other names and brands may be claimed as the property of others.
Copyright © 2014 Intel Corporation. All rights reserved.