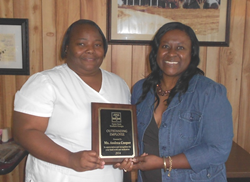 (PRWEB) October 23, 2014
Members of the Camilla Easter Seals Southern Georgia board of directors hosted an appreciation dinner at Debbie's Main Street Restaurant in Camilla. The event honored staff, group home residents and community supporters of the organization. Executive Director, Beth English welcomed those attending and provided information on the economic impact of Easter Seals in Mitchell County. During the 2014 fiscal year, 34 individuals were served through the residential, family support and vocational programs operated by the organization. Easter Seals has 12 employees working in local programs and brings $328,000 in federal dollars back to the community. A delicious meal was enjoyed and two awards were presented.
Andrea Cooper received the Outstanding Employee Award and the City of Camilla was given a Distinguished Service Award.
Easter Seals Southern Georgia provides exceptional services to ensure that all people living with disabilities or special needs and their families have equal opportunities to live, learn, work and play in our communities. For more information call our office at 229-439-7061 or visit our website at http://www.easterseals.com/southerngeorgia