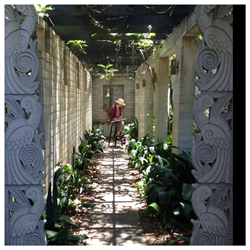 "The goal of the Artist-in-Residence program is to provide an environment in which inspiration can truly flourish." -A&H Chief Curator, Rebecca Sexton Larson
Maitland, FL (PRWEB) August 27, 2014
From its earliest days as The Research Studio, Art & History Museums – Maitland was viewed by artists such as Milton Avery and Ralston Crawford as a place they could come to free themselves from the distractions of the "outside world". Founder, André Smith opened his doors to artists who were willing to collaborate and push the envelope of their work. Today, the A&H seeks to inspire this generation of great American artists by providing the same experience through its Artist-in-Residence program. The organization is currently calling for artists to apply.
According to Chief Curator, Rebecca Sexton Larson, "the goal of the Artist-in-Residence program is to provide an environment in which inspiration can truly flourish." She notes that, while the ability to focus on art during the residency is critical, A&H offers something more. "We consistently hear that the campus itself often makes the experience", comments Larson. "The campus is beautiful and historic, but it was also created with such a unique creative perspective that one can't help but let their imagination run free."
As Elysia Mann, a resident in the spring of 2014 describes, "Stepping out of my usual routine and surroundings into this beautiful setting provided, not only an inspiring backdrop to creative activity, but also a shock of newness that spurred a more experimental approach to my artistic process."
To become a resident at A&H, artists can fill out the online application form. The ideal candidate is one comfortable with living and working in a new, temporary space, is project based, and is ready to push beyond the ordinary boundaries of their work.
To be considered for this unique residency program, the application form can be found at artandhistory.org/artist-in-residence-program/.
For more information, please contact Rebecca Sexton Larson at rebecca(at)artandhistory(dot)org.