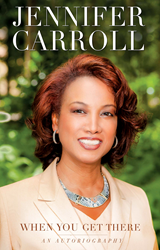 Jacksonville, FL (PRWEB) August 27, 2014
In her new memoir, "When You Get There," former Florida Lt. Gov. Jennifer Carroll, who resigned the post in 2013, details her path from Trinidad immigrant to second-in-command of the state – a woman in a "good old boy" network of southern politicians.
"I want to give readers a sense of hope and some insight into how they can draw on their inner strength when faced with challenges," she writes in the introduction of the book set for release Aug. 27.
"Second, I wanted to clear up inaccurate statements made about me in the media since I left my position as lieutenant governor," she writes.
Carroll grew up the adopted child of her great aunt and uncle, loving but strict parents whose rules heightened her isolation as she tried to adapt to life in the United States. They also loved her fiercely, nurtured her academically, and laid the foundation for a strong spiritual life that has seen her through dark times, including her years as Florida Gov. Rick Scott's second in command.
"When you're struggling, you never think you'll be better off because of it, particularly if you're a good person who's trying to do well," Carroll says. "You learn to adjust and come out of these trying times stronger and more prepared for what's truly intended for you."
Out of high school, she enlisted in the Navy. One of the first female jet mechanics, she quickly ascended the ranks, encountering sexism, racism and the condescension of older airmen who resented being supervised by a young petty officer. The experiences would later help her navigate the challenges of being a woman in a "good old boy" network at the highest level of state government, she says.
She spent 20 years in the Navy, marrying and raising three children while caring for aging parents through deployments. She retired as a lieutenant commander and ran for Congress and a seat in the state House while still raising her children and caring for her parents.
That began a political career that, on Jan. 4, 2011, would result in her inauguration as Florida's lieutenant governor, the first black and the first woman elected to the post. It was not what she'd hoped or expected.
"It eventually became clear that Gov. Scott did not want a lieutenant governor – he wanted to work alone," Carroll says of the former chairman and CEO of Columbia/HCA, the largest for-profit hospital chain in the world. (Scott was forced to resign that job after government investigations revealed illegal activities by the chain, which eventually pleaded guilty to multiple felonies.)
Carroll's memoir concludes with the story of what she says really happened during her years serving with Scott, who is currently campaigning for re-election, and her ultimate resignation.
"I wanted to tell that story because, as most people can guess, in politics, things are often not what they appear to be on the surface," she says. "But my book's most important purpose is to motivate, inspire and help others to overcome adversity, just as I've done."
About Jennifer Carroll
Jennifer Carroll is the former lieutenant governor of Florida and a retired decorated lieutenant commander/aviation maintenance for the U.S. Navy. She was a member of the Florida House of Representatives from 2003 to 2010 and was the executive director of the Florida Department of Veterans Affairs, Currently, she is the senior advisor for Global Digital Solutions, Inc., in West Palm Beach, Fla. Carroll holds an MBA, among other academic degrees. She and her husband, Nolan, have three children. For more information visit http://www.jennifercarroll.com/.