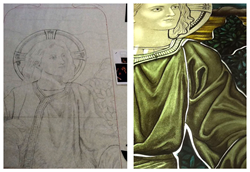 (PRWEB) August 27, 2014
Associated Crafts announced today that it is working in conjunction with St. Joseph Catholic Church in Edina, Missouri, to help bring the historic church back to life after it suffered devastating damage in a fire that occurred August 2013.
The team of artisans at Associated Crafts has been working with St. Joseph's for months, and is pleased to report that the project is now 95 percent complete. The work being done at St. Joseph's includes the rebuilding of two windows destroyed in the fire, as well as cleaning, repairing, and covering existing interior windows.
"St. Joseph's suffered an overwhelming loss due to damage from last year's fire, and we are happy to be a part of the combined effort to bring the church back to its original beauty," stated Mary Phillips, Associated Crafts' VP of Special Projects. "We know that St. Joseph's is considered a community treasure, and we hope our restoration and rebuilding of the stained glass windows will do this historic church justice."
According to local news reports, this tragic fire came after church members had been working to renovate the building for several years (1). Fortunately, the Associated Crafts studio was able to salvage much of the broken and burned glass from the church's original windows. This alone has allowed Associated Crafts artisans to replicate the design of the original windows and rebuild two new windows to match, in order for the church to maintain its historic integrity.
Phillips said she expects this project to be completed by the end of 2014.
To learn more about Associated Crafts' projects and services, please visit http://www.associatedcrafts.com.
About Associated Crafts
Founded in 1997 by John and Mary Phillips, Associated Crafts is a family-owned and operated Stained Glass studio specializing in the restoration, installation, design and preservation of church stained glass windows. The company's expertise culls from John Phillips' more than 30 years in every aspect of the stained glass business, following his father's footsteps in the industry. For more information, visit http://www.associatedcrafts.com.
Sources:
(1) "Services continue for members of Edina's St. Joseph Catholic Church." Published August 15, 2013 by WGEM. http://www.wgem.com/story/23149966/2013/08/15/services-continue-for-members-of-edinas-st-joseph-catholic-church