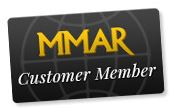 Staying active healthy after injury shouldn't break the bank.
Houston, Texas (PRWEB) August 28, 2014
MMAR Medical is pleased to announce their Customer Membership Program. The program is a chance for regular customers to enjoy several perks and benefits when shopping with MMAR Medical without the need for a wholesale license. It's a great choice for independent athletes, high school athletics coaches, semi-professional athletic programs and others who regularly purchase medical braces but could use a discounted price point.
"Whether supporting your own active lifestyle or those of your club, group or team, staying active and healthy after injury shouldn't break the bank," said Chris Dillon, founder of MMAR Medical. "We developed the Customer Membership Program to give hardworking athletes everywhere access to discounts and perks they might not otherwise be able to find."
Included in the Customer Membership Program are the following features:

Access to Premium Pricing programs
Price Match Program
No minimum order size
No handling fees
No drop shipping fees
Quick and simple approval process
No hassles, no contracts
One source for hundreds of brands and thousands of products
MMAR Medical is a leading online retailer of medical braces, compression therapy, contracture management and more. Based in Houston, Texas, MMAR Medical has been a leading provider of wholesale medical braces since 1990. The Customer Membership Program is available for enrollment now. Learn more about this program here and register today.