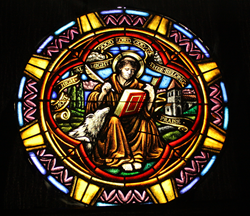 (PRWEB) August 28, 2014
The team of artisans at Willet Hauser Architectural Glass today announced that they have begun the final fabrication stages for a stained glass project at St. Francis of Assisi Roman Catholic Church in Frisco, Texas. The final two designs – two windows out of a larger series of more than 40 windows – were recently sent into production.
This project began when Willet Hauser was commissioned to design and fabricate stained glass windows for the parish's new church and chapel. The project was spearheaded by a long-time Willet Hauser artist and a freelance artist who differ aesthetically, allowing the windows to be both traditional and modern in style in order to fit effortlessly within the church.
"This project has been in the works for quite some time, and we're thrilled to see the hard work of our artisans come to fruition with these beautiful works of art," Kathy Jordan, Director of Art Development.
The design for eight nave windows in the church was based on the famous Legend of St. Francis cycle of frescoes that adorn the walls of the Basilica of St. Francis in Assisi, Italy. The nave windows depict the life of St. Francis of Assisi and modern day saints that lived out his example. These windows, along with 21 additional windows in the church and choir room, were designed in the traditional style of Adam Smith, who worked as a Willet Hauser designer for many years.
The more modern and abstract windows in the church's New Chapel were designed by celebrated freelance artist Charles Z. Lawrence. In addition to a selection of windows, Lawrence also designed a series of 30 stained glass dome windows for the clerestory.
The full set of stained glass windows at St. Francis of Assisi Roman Catholic Church in Frisco is projected to be complete by the end of 2014.
For more information on Willet Hauser Architectural Glass, please visit http://www.willethauser.com or call 800-533-3960.
About Willet Hauser Architectural Glass:
Originally founded in 1898 under the name of The Willet Stained Glass and Decorating Co., the nation's leading stained glass window company known today as Willet Hauser Architectural Glass, Inc., continues to design and restore beautiful stained glass window creations. Under the leadership of the Hauser family, the studio grew from a small organization of artists, designers and craftsmen into a premier stained glass architectural windows firm. Combining both timeless traditions and modern techniques to their craft, Willet Hauser's works of art have been commissioned by prominent associations and organizations throughout the United States, including the National Cathedral in Washington, D.C. to the Cathedral of St. Mary of the Assumption in San Francisco and even West Point Military Academy. For more information, please visit http://www.willethauser.com/.