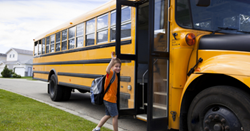 Parents need to be armed with a safe, effective, and natural pain product made just for youngsters
Rhinebeck, NY (PRWEB) August 26, 2014
Kids are back in school, with a busy schedule that includes sports, playground fun, and other physically demanding activities. With youngsters spending lots of time outdoors, participating in leagues, and toting around heavy backpacks all day, strains, sprains, muscle pulls, and other mishaps are sure to follow. In fact, data from the most recent National Hospital Ambulatory Medical Care Survey show that an annual average of 11.9 million injury-related emergency department visits were made by children and adolescents age 18 and under.
While injuries are a part of growing up, parents aren't always sure which treatment options are safe and effective for their children, especially given the side effects of over-the-counter chemical-based pain pills and the side effects and allergic reactions many kids have to smelly, greasy, and messy topical ointments.
Lou Paradise, president and chief of research of Topical BioMedics, Inc., urges parents to consider the following safety tips to help protect their children from pain and injury and keep them out of the emergency room.
PLAYING IT SAFE
--Children should have a physical exam before participating in sports and always wear the proper protective equipment. Be sure your child stretches and warms up muscles prior to activity to help prevent injuries.
--Clothing and shoes should fit properly. Loose clothes can catch in playground equipment, and properly fitted footwear minimizes the risk of falling or tripping.
--Small children should be supervised at the playground or while playing outside at home.
--Bullying is now epidemic. An adult should accompany younger children to the bus stop to avoid episodes of roughhousing.
Even with precautions, kids have accidents, and there are times when pain and injuries are unavoidable. Moreover, 25% - 40% of children aged 3-5 and 8-12 experience growing pains.
"Parents need to be armed with a safe, effective, and natural pain product made just for youngsters, which is why I developed Topricin for Children, a soothing cream formula free of parabens, petroleum, chemicals, and counter irritants," says Mr. Paradise. "Odorless and greaseless, it works to supports and assists the body in the healing process to help reduce inflammation, detoxify and stimulate blood flow that increases oxygenation of the skin to speed healing and relieve aches and pains. I've used Topricin on my own children, and they now use it on my grandchildren."
AVOID THE HAZARDS OF SCHOOL BACKPACKS
While a backpack is the most popular and practical way for students to carry their books and school supplies, backpacks that are too heavy or worn incorrectly can cause serious back, neck and shoulder pain, and also cause children to lose their balance and fall. The risk of injury and pain can be avoided by choosing a well-fitting backpack and following proper packing procedures.
Mr. Paradise offers the following tips for backpack safety to make back-to-school time safer and less painful for students.
–Make sure backpacks fit properly and have padded backs and straps.
–Children should wear BOTH straps—slinging a backpack over one shoulder can strain muscles.
–Teach your child to pack light and only carry what is necessary to avoid any excess weight.
–A backpack should weigh no more than 10% -15% of the child's body weight.
–The backpack's straps should fit snuggly over the child's shoulders.
–Parents should pick up their child's backpack on a regular basis to gauge its weight.
–Make sure the backpack is positioned on the back between the shoulders and not resting on the child's lower back or hips.
–Tighten the straps so the pack sits close to the body.
–Organize the pack carefully, positioning heavier items closet to the center of the back.
–If your child is complaining about aches and pains, apply Topricin Junior Pain Relief and Healing Cream—a safe and effective, natural biomedicine formula for children that's free of parabens, petroleum, and other harsh chemicals and with no side effects, odor or grease. (More information at http://www.topricin.com).
If your child is experiencing back pain, weakness or numbness in the arms or legs, be sure to speak with your doctor.
FEATURES TO LOOK FOR WHEN CHOOSING A BACKPACK
When shopping for a backpack, be sure look for the following features:
–Two shoulder straps to distribute weight evenly.
–Wide, padded shoulder straps that won't dig into shoulders causing pain and cutting off circulation.
–Padded back provides more comfort and protects children from being poked by sharp objects inside the backpack.
–Backpack should be made of durable, lightweight material.
–Waist belt to distribute the weight more evenly across the body.
SIGNS THAT A BACKPACK IS TOO HEAVY
Mr. Paradise states, "A 1999 study showed that more than half the children carried backpacks weighing more than the recommended 15% of their body weight. That same year, emergency rooms saw more than 3,3000 backpack-related injuries in children between the ages of five and 14—a number that does not include youngsters who went to family physicians or chiropractors to treat their injuries. This problem can be eliminated by making parents and students aware of backpack safety procedures."
Most importantly, Mr. Paradise says it is important for parents to look for signs that their child's back is too heavy and take steps to ensure their back safety.
Signs to look for include:
–A change in your child's posture when wearing the backpack
–Struggling to put the backpack on or take it off
–Pain when wearing the backpack
–Red marks from the shoulder straps after the backpack has been removed.
NATIONAL BACKPACK AWARENESS DAY
On the third Wednesday in September, occupational therapy practitioners and students celebrate the American Occupational Therapy Association's National School Backpack Awareness Day. This initiative was created to educate parents and students about the serious health risks of backpacks that are too heavy or worn improperly so they can avoid pain and injury. This year's event takes place on September 17th. For information and resource materials, visit http://www.aota.org/Practitioners/Awareness/School-Backpack-Awareness.aspx
ABOUT TOPICAL BIOMEDICS, INC.
20 years in business and a Certified B Corporation, Topical BioMedics is a research and development leader in topical patented natural biomedicines for pain relief. The company's flagship product, Topricin® Pain Relief and Healing Cream, was introduced in 1994 and is now a leading natural therapeutic brand. A combination biomedicine formula, Topricin has been awarded a patent for the treatment of pain associated with fibromyalgia and neuropathy, and was listed among the Top 100 Green Products of 2012 by Healthy Holistic Living.
The Topricin family of natural healing products also includes Topricin Foot Therapy Cream, specially formulated to treat painful foot and ankle issues and conditions, and Topricin for Children, which received the Parent Tested Parent Approved Seal of Approval (with 5% of sales donated to pediatric cancer foundations). Made in the U.S.A., all Topricin products are federally-regulated over-the-counter medicines with no known side effects, no parabens, petroleum, or other harsh chemicals, no grease, and no odor.
Topical BioMedics now offers TopTrack, a new app for on-the-go pain tracking and monitoring. TopTrack is available free of charge for iPad via the App Store, and will roll out on additional devices in the coming months. http://bit.ly/1rIQD89
Topricin is available in independent pharmacies, natural food and co-op stores nationwide, including Whole Foods, Sprouts, Pharmaca, The Vitamin Shoppe, Fred Meyer, Wegmans, CVS (Foot Care Section), Walgreens (Diabetic Section), and other fine retailers, as well as directly from the company.
For more information visit http://www.topricin.com
THE TOPICAL BIOMEDICS' "GET RELIEF, GIVE RELIEF" INITIATIVE
For over 20 years, the Topricin project has assisted hundreds of thousands of people suffering with pain and those addicted to painkillers to achieve fully restored and robust healthy living. Unfortunately, millions of people continue to suffer in pain, with many experiencing the hazardous side effects of OTC chemical pain pills or negative effects of narcotic Rx painkillers—an epidemic that turns the lives of American families upside down and is undermining the very fabric of our country.
Because of the company's experience in addressing these challenges, it has launched its "Get Relief, Give Relief" initiative: for every purchase of Topricin, Topricin Foot Therapy, or Topricin for Children ordered directly from the company, it will donate a tube of Topricin to a credible pain clinic on the customer's behalf…Free.
The company invites the public to join its army of pain relief warriors determined to help those in need by ending suffering and painkiller addiction and restoring hope and the joy of living life to the fullest. To "Get Relief, Give Relief," order from http://www.topricin.com or call 1-800-LES-PAIN (537-7246).
SOURCES:
Topical BioMedics, Inc.
Centers for Disease Control and Prevention
National Hospital Ambulatory Medical Care Survey
American Occupational Therapy Association
American Academy of Orthopaedic Surgeons
WebMD
Kids Health.org