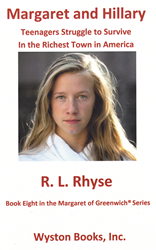 She was a lot of things but nothing more so than a survivor.
Warwick, New York (PRWEB) September 03, 2014
"What can you say about a sixteen-year-old girl who tried to kill herself?" Thus begins "Margaret and Hillary," Book Eight in the Margaret of Greenwich(R) Young Adult series by R. L. Rhyse and published by Wyston Books, Inc. These novels narrate the lives of a poor teenager and her wealthy friends in the richest town in America.
In this thriller, learning geometry becomes the least of Margaret's worries as she helps to investigate a student's murder plot. Her fears increase when Erika, the only child of Greenwich's billionaire widower, accepts a date with the mysterious student, Malcolm; an attempt is made to assassinate Claudine, Margaret's newly adopted sister; and Hillary's baby is born prematurely.
But Margaret has allies too: Vladimir, a former general in Russia's Presidential Security Service, who considers her a daughter; wealthy, respectable Aunt Lena, whose stories educate Margaret about passion, and her origin; a disabled lawyer, Margaret's father, whose actions exemplify courage; and her boyfriend, Randy, who is the love of her life.
In "Margaret and Hillary," Margaret's saga continues: "What can you say about a sixteen-year-old girl who tried to kill herself? Hillary hasn't yet figured it out since what happened that day still doesn't make sense.The mystery is not why she attempted suicide since being the pregnant mistress of a married man gave her motive. No, the mystery is why she wasn't dead despite having held the loaded revolver to her head and pulling the trigger."
R. L. Rhyse, a former resident of Greenwich, Connecticut, is the author of the books in the Margaret of Greenwich® series. These include Margaret of Greenwich, Margaret and Erika, Margaret at War, Margaret in Tokyo, Margaret and Eve, Margaret and Velda, and Margaret and Emily.
Available in print and for the Kindle, Nook, and iPad and iPod.
Pages: 286
E-book: $4.99 - eISBN 978-0-9903920-1-9
Print book: $10.99 - ISBN 978-0-9903920-0-2