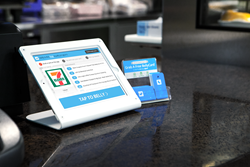 By driving in a more profitable guest and influencing their purchasing behavior, we can confidently support 7-Eleven and additional enterprise partners' loyalty needs.
Chicago, Illinois (PRWEB) August 27, 2014
Belly, the industry-leading digital loyalty platform and 7-Eleven, Inc., the world's largest convenience store chain, today announced an expanded partnership in more than 2,000 locations. 7-Eleven customers can now use Belly's universal loyalty program to earn points and redeem rewards at 7-Eleven locations in the Northeast, along with parts of Austin, Los Angeles, Chicago, and Vancouver.
The expansion builds upon the initial installation of Belly at 85 7-Eleven stores in downtown Chicago and a subsequent pilot of 350 locations across Chicago, Austin and Los Angeles. Starting this month, 465 locations in New York and Vancouver, B.C., Canada, will implement Belly's program. By the end of this year, over 2,600 7-Eleven stores' loyalty will be powered by Belly's digital marketing platform. This will bring the total participation to one-quarter of 7-Eleven's locations in the U.S. and Canada.
"Our partnership with 7-Eleven proves our ability to increase customer spend and frequency of visits at the enterprise level," said Logan LaHive, Founder and CEO of Belly. "There's a need for large retail chains to have the right tools to track online and offline customer behavior and Belly provides this for them."
Not only does Belly provide 7-Eleven guests with unique, customized rewards, but also is leading a variety of marketing initiatives for 7-Eleven. For instance, Belly helps 7-Eleven target lapsed customers through email marketing campaigns and acquire new customers by leveraging Belly's already extensive network of over 3 million members.
"The expanded partnership with 7-Eleven aligns with our vision to connect consumers with their favorite businesses," said LaHive. "We are building on the momentum we have with our local business partners and rapidly growing our network so our members can get great rewards at the world's largest convenience store."
"Over a year and a half ago, we started looking for a solution to help increase customer visits, bring new guests to our stores and increase frequency of visits while also increasing basket size," said Raja Doddala, 7-Eleven senior director for new business development. "We look forward to expanding our relationship to even more stores and new markets."
"This relationship with 7-Eleven demonstrates Belly's ability to support large-scale, multi-location enterprise rollouts," said Sarah Reilly Engel, Belly's Vice President of Enterprise Merchant Success. "By driving in a more profitable guest and influencing their purchasing behavior, we can confidently support 7-Eleven and additional enterprise partners' loyalty needs."
7-Eleven has run more than 20 marketing campaigns through Belly's platform since March of 2013. Belly can automate results-driven promotions by utilizing data and insights on customer behavior, such as total visits.
Promotions ranging from charitable donations to Olympic-themes encouraged members to visit 7-Eleven to receive time-based rewards.
Belly members can earn points at any participating 7-Eleven location with their Belly app or physical BellyCard. Members earn points for every visit, which can then be redeemed for rewards such as "Name The Slurpee Flavor Of The Month" and "Free Coffee For A Year."
For more information about Belly and 7-Eleven, visit their respective websites. Or stop by any participating 7-Eleven location, grab a BellyCard and join the nation's largest loyalty network.