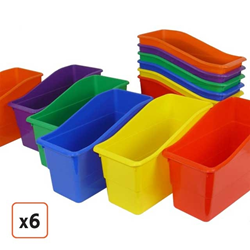 Urbana, IA (PRWEB) August 27, 2014
E-commerce retailer JustPlasticBoxes.com has recently expanded its product line, adding a new category of classroom storage merchandise. Items in the new category range from colorful book bins and magazine holders to large ruler boxes and storage containers with dry erase labels. The new additions continue to widen the scope of products for the company, which is broadening from simple storage boxes to include more special-purpose merchandise.
According to Product Specialist Tammy Karr, the popularity of the company's bulk pricing on classroom essentials like pencil boxes and plastic milk crates prompted the online retailer into adding additional products in a wider range of colors, and creating a category of products just for classroom storage.
"Our storage boxes are extremely popular with teachers due to the bulk pricing format, which makes it easier and more cost-efficient to supply a classroom," said Karr. "We're excited to now be able to offer a wider variety of products in a range of colors."
While all products are sold in bulk quantities to create a discounted pricing structure, items are also always available in single quantities by calling the JustPlasticBoxes sales team toll free at 800-736-0651. The company also offers free shipping on all orders, with transit time generally just one to four days to addresses in the continental United States.
Karr says the next round of product additions are scheduled for early fall and include a new line of Lego storage boxes.
###
About JustPlasticBoxes.com
JustPlasticBoxes is owned by Clickstop, Inc., an online retailer of niche brands in several different categories. Websites under the Clickstop company umbrella also include SpaceSavers.com, BellyBling.net, and EcoFoil.com. With strong vendor relationships from Clickstop's large e-commerce presence, JustPlasticBoxes is proud to offer high quality brand name plastic storage boxes at value prices with free delivery.