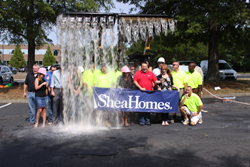 Charlotte, NC (PRWEB) August 28, 2014
When the Colorado division of Shea Homes challenged the Charlotte division to accept the ice bucket challenge, Shea Homes of Charlotte decided to make it personal. Ed Shea, one of the Division Owners, has been fighting ALS for 14 years, so the challenge was encompassed by the Charlotte division.
On Thursday, August 21, the Shea Homes team came together to watch the other three owners of the division accept the challenge personally. The company held a raffle for who would get to perform the ice bucket honors. John, Gil and Mike Shea cheerfully had ice cold water dumped on their heads, but the catch was that they then challenged the rest of the company.
To accept the challenge, most of the employees took a group challenge, as ice cold water was poured from two Bobcats above. To make it all fair, even the employees operating the Bobcats were doused in water. Shea Homes thanks Griffin Masonry for supplying the Bobcats for the ALS Ice Bucket Challenge, Shea Custom for donating the ice, and to all employees who accepted the challenge. A total of $910 was raised at this event for ALS. View video of the challenge online or check out Shea Homes Charlotte on Facebook for photos and more.
Shea Homes Charlotte is an official sponsor of Pinstripes, which has raised over $2.7 million dollars for ALS patients and families of The Carolinas ALS Center.
ABOUT SHEA HOMES
Shea Homes Charlotte is a division of Shea Homes Limited Partnership, an independent member of the Shea family of companies; Shea Homes is the oldest family‐owned homebuilder in the United States. Shea Homes builds new homes in California, Arizona, Nevada, Colorado, Washington, North Carolina, Texas, Virginia and Florida. With choices to suit homeowners in every stage of life, Shea Homes offers new homes ranging from affordably priced single-family homes to magnificent luxury residences. Shea Homes has been recognized as a leader in customer satisfaction with a reputation for design, quality and service. For more information about Shea Homes and its communities, visit SheaHomes.com.