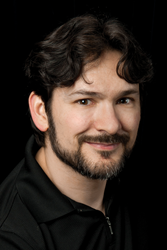 'Shortly after winning Writers of the Future, I sold my humorous urban fantasy series to Tor.'
Hollywood, CA (PRWEB) August 26, 2014
Randy Henderson, Golden Pen Grand Prize Award winner of the bestselling Science Fiction anthology series, L. Ron Hubbard Presents Writers of the Future Volume XXX, now has his first novel in pre-sale for a February 2015 release date of the hardback edition.
"Shortly after winning Writers of the Future, I sold my humorous urban fantasy series to Tor," stated Henderson.
"Finn Fancy Necromancy, will be available in February, 2015. It is about a young necromancer wrongly exiled from our world in 1986 who returns twenty-five years later hoping to reconnect with the girl he loves, only to be immediately framed for murder. In order to clear his name, he must deal with sasquatch mercenaries, evil PTA witches, mobster gnomes, and worst of all, his dysfunctional family."
The Writers of the Future Contest began in 1983 and attracts entries worldwide in science fiction and fantasy. Twelve quarterly winners receive prize monies and, along with selected finalists, are published in an annual anthology, L. Ron Hubbard Presents Writers of the Future (Galaxy Press). The book is sold in bookstores and at Amazon.com and gives the winners the exposure that they need.
Inspired by multiple New York Times best-selling author L. Ron Hubbard, the merit-based Writers of the Future Contest was initiated by him to discover and encourage talented beginning writers of science fiction and fantasy, and thus launch careers. The idea has proved very successful. Hundreds of winners have had successful writing careers following their win and publication in the anthology, and to date has launched the careers of 12 New York Times best selling authors including: Jo Beverley, Tobias S. Buckell, Nancy Farmer, Eric Flint, Karen Joy Fowler, Tim Myers, Patrick Rothfuss, Lisa Smedman, Dean Wesley Smith, Elizabeth Wein, Sean Williams and Dave Wolverton aka David Farland.
For more information on Writers of the Future visit http://www.writersofthefuture.com.