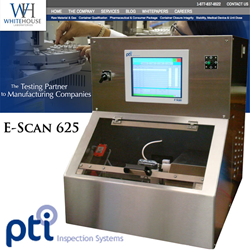 '...together we have been able to deliver solutions and much needed results for clients when it comes to their leak testing issues.'
New York, NY (PRWEB) August 28, 2014
Whitehouse Laboratories is excited to announce that it has renewed its long term partnership with PTI Inspection Systems that will enable it to continue to provide clients with state of the art leak testing method development and validation programs using the most state of the art instruments currently available. As part of this agreement, Whitehouse Labs has taken delivery of a new High Voltage Leak Detection Instrument developed and manufactured by PTI. The HVLD (high voltage leak detection) non-destructive test method ensures container closure seal integrity by identifying small pinholes, micro cracks, and seal imperfections. Applications include pre-filled syringes, liquid filled vials, ampoules and BFS containers. HVLD is the only technology that does not rely on mass to transfer through a defect. A proteinaceous product or products with a certain viscosity are at high risk of plugging or obstructing defects and HVLD picks up these difficult to find leaks. Another benefit is the HVLD method can be easily migrated from the laboratory offline for 100% online testing at high production speeds. It is very effective for online CCIT with minimal infrastructure modification. This is a huge advantage and overall simplifies the inspection and validation process.
The addition of the HVLD technology being available full time at Whitehouse Laboratories enables the Center for Container Testing Excellence at Whitehouse Laboratories to offer all leak testing methods as outlined and prescribed by the new United Stated Pharmacopeia General Chapter 1207. The suite of leak testing services now required by the regulatory agencies can all be completed under one roof. In addition, relevant ancillary services such as vial capping, laser hole drilling and residual seal force testing round out the holistic method development and validation services.
Heinz Wolf, general manager for PTI Inspection Systems, commented, "HVLD has proven to be a highly sensitive leak test method for various types of pharmaceutical and biological products. Prefilled syringes, in particular can be an especially challenging application due to the lack of headspace, and HVLD has proven to be the go-to solution for syringe CCIT. Research studies have also demonstrated HVLD's improved detection capabilities compared to conventional dye and microbial ingress methods. We are pleased that Whitehouse Labs understands the value of this unique technology and we look forward to working with them as we continue to work and develop new and improved state of the art leak testing instruments."
States Mark Stier, COO of Whitehouse Laboratories, "We have worked hand in hand with PTI Inspection Systems for the past nine years and together we have been able to deliver solutions and much needed results for clients when it comes to their leak testing issues. PTI's willingness to work with us shows their commitment to the front lines of the ever significant field of container leak testing and we look forward to many more years of collaboration."
Leak testing is a crucial issue that can have a major financial impact on a product and the company behind it. Options for leak testing that meet the strict regulatory guidelines are critical for success. HVLD is an example of a method that can help companies prevent regulatory and financial crisis.
About Whitehouse Laboratories
The Testing Partner to Manufacturing Companies, Whitehouse Labs is an FDA regulated, DEA Licensed, ISO 17025 and ISTA certified contract service provider to the pharmaceutical, medical device, personal and consumer product industries. Whitehouse Laboratories offers analytical services for the testing of materials, finished products, container and package systems that enable our clients to meet and exceed the required quality standards established by the key regulatory agencies.
About PTI Inspection Systems
PTI Inspection Systems is the leading manufacturer of non-destructive package inspection technologies for the pharmaceutical, medical device and food industries. We offer inspection systems for package integrity testing, seal integrity, leak testing and container closure integrity testing (CCIT). Our technologies exclude subjectivity from package testing, and use test methods that conform to ASTM standards. PTI Inspection systems provide repeatable, reliable results and can be used at any point in the manufacturing process as they are non-destructive, non-invasive and require no sample preparation.