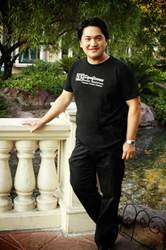 Las Vegas, NV (PRWEB) August 26, 2014
Dr. Allen Huang now performs the Chao Pinhole Surgical Technique (PST™), a minimally invasive treatment for gum recession, as an alternative to gum grafting. This procedure can improve the comfort and oral health of people in Las Vegas, NV, who have receding gums and are experiencing issues such as sensitive teeth. PST™ does not require any large cuts or sutures, which reduces the likelihood of pain, bleeding, and other adverse outcomes.
PST™ is the least invasive means of treating receding gums currently available to people in Las Vegas, NV. Rather than removing tissue from the roof of the mouth and placing it under the receding gums, Dr. Huang adjusts the positioning of the receding tissue. To do this, he makes a tiny incision and uses a small tool to reach into the incision and carefully loosen the gum tissue. This enables Dr. Huang to push the tissue downward and create a lower gumline. Dr. Huang can treat multiple teeth during a single appointment, which typically takes less than 2 hours. Since PST™ is minimally invasive, it offers a minimal risk of infection. Many patients return to their normal activities the day after the procedure and some notice immediate relief from symptoms such as sensitive teeth.
Seeking treatment for receding gums is important for a few reasons. Gum recession leaves teeth exposed to infection and decay; recession also can allow teeth to become more mobile. Recession is often an early sign of periodontal disease, which can have serious impacts on oral and general health. Recession can also be caused by personal habits, such as inadequate oral hygiene or aggressive brushing, which may lead to other oral health issues. People who seek treatment from Dr. Huang may be able to discover the cause of the recession and lower their likelihood of experiencing other oral health complications.
Many people in Las Vegas, NV may not realize they have receding gums until the condition has progressed significantly, since gradual changes in the appearance of the smile can be difficult to notice. However, some people may see a significant change in the appearance of the tops of their teeth, which may appear yellow or notched as the root becomes exposed. Other symptoms include sensitive teeth and a feeling of tooth looseness or mobility. Anyone who notices these symptoms is encouraged to schedule a consultation with Dr. Huang about PST™ or other means of treating the condition.
About the Doctor
Dr. Allen Huang is a Board Certified Periodontist and Implant Specialist, offering personalized dental care for patients in Las Vegas, NV. Dr. Huang received his degree in Bio-Chemical Engineering from the University of California at Los Angeles. He went on to earn his DMD degree from the University of Pennsylvania School of Dental Medicine. Following his general dental training, Dr. Huang received a full 3-year scholarship to train in Periodontics and Implant Dentistry at University of Illinois at Chicago. During his training, Dr. Huang received many academic honors, and was named as the first Chief-Resident in program history. In addition to his specialty training, Dr. Huang also obtained a Master of Science (MS) degree in oral biology from the University of Illinois where he conducted clinical and histological research in bone regeneration in furcation defects in baboons. Dr. Huang was also involved in clinical and histological study of platelet rich plasma (PRP) in sinus lift bone regeneration project. Dr. Huang is a Diplomate of the American Academy of Periodontology and a member of the America Academy of Periodontology, American Academy of Osseointegration, Academy of Dental Association and Southern Nevada Dental Society. In addition, Dr. Huang recently started his own dental implant company and is the CEO of Altosbiotech, LLC. To learn more about the services Dr. Huang provides please visit his website at http://www.sdsdental.com/ or call (702) 733-0558.