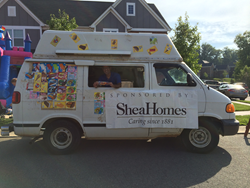 Charlotte, NC (PRWEB) August 28, 2014
On a hot Saturday afternoon, the Barrington neighborhood, developed by Shea Homes of Charlotte, took the neighborhood block party idea to a whole new level. What started out as a small event to get to know their neighbors turned into an amazing afternoon. This neighborhood in Waxhaw, NC worked together to have local businesses donate everything from water and pizza to cake, wine and face painting. Shea Homes donated 125 free ice creams from an ice cream truck.
Families who attended were asked to make a small donation to the Levine Children's Hospital and Teen Health Connection of Charlotte. Homeowners were seen grilling out, supplying additional food, and really connecting with each other. The local Fire department came out, and two bands played for the evening. Kids enjoyed playing in two bouncy houses, and the four-legged members of the family were included during the Kid & Pet Parade.
Barrington is a four-sides brick home neighborhood located minutes from downtown Waxhaw. Phase 2 of Barrington will open in October, with 54 new homesites being added to the neighborhood. Homes will start in the $300's. For more information on Barrington, visit http://www.sheahomes.com/community/barrington/.
ABOUT SHEA HOMES
Shea Homes Charlotte is a division of Shea Homes Limited Partnership, an independent member of the Shea family of companies; Shea Homes is the oldest family‐owned homebuilder in the United States. Shea Homes builds new homes in California, Arizona, Nevada, Colorado, Washington, North Carolina, Texas, Virginia and Florida. With choices to suit homeowners in every stage of life, Shea Homes offers new homes ranging from affordably priced single-family homes to magnificent luxury residences. Shea Homes has been recognized as a leader in customer satisfaction with a reputation for design, quality and service. For more information about Shea Homes and its communities, visit SheaHomes.com.