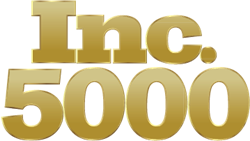 Boardman, OH (PRWEB) August 27, 2014
SYSPRO ERP platinum-level partner, Cogistix announced today that they have been named to Inc. Magazine's Inc. 5000 list. This is Cogistix's first recognition on the list, with 281% growth over three years landing the company at position 1,522 out of 5000 companies. Cogistix now shares this honor with companies like Intuit, Zappos, Under Armour, Microsoft, Jamba Juice, Timberland, Clif Bar, Pandora and many others.
Kevin Miller, Cogistix Founder and Director of Technical Services stated, "We are thrilled and honored to be named on the Inc. 5000 list and we are elated to be among such good company. I am pleased with Cogistix's continual growth that would not be possible without the hard work of our team."
The Inc. 5000 list was established over 30 years ago as an exclusive way to showcase the fastest growing private companies in America. The Inc. 5000 list has become one of the most prestigious rankings for entrepreneurs and independently owned businesses. This year's list measures revenue growth from 2010 to 2013.
About Cogistix:
Cogistix, a Platinum SYSPRO ERP partner, is focused on providing ERP software and implementation services to the manufacturing and distribution industries. For more information, call (330) 953-3937 or visit http://www.cogistix.com.