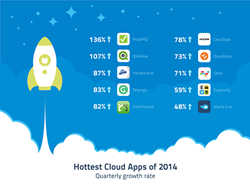 Dallas, Texas (PRWEB) August 27, 2014
ProofHQ, the global leader in online proofing for designers and marketing professionals, has been named the fastest growing cloud application of 2014 by cloud security software provider Skyhigh Networks. ProofHQ tops a list of 10 cloud applications experiencing rapid adoption across enterprise companies.
To create the list, Skyhigh Networks used anonymized usage data from over 200 companies and over 10 million users to calculate the growth rates of cloud services from Q1 to Q2 of this year. During that time, data shows that ProofHQ experienced a 136% quarter over quarter growth in the number of active users across 7,000 cloud services.
"We're delighted to be included on this list and to be recognized along with such innovative companies," said Shawn Herring, Vice President of Marketing at ProofHQ. "We're fortunate to have an ever-growing customer base of brands, agencies, publishers and printers and this list validates the importance of automating and streamlining the process of managing document reviews, proofing and approvals."
In addition to being named the fastest growing cloud application, ProofHQ earned the CloudTrust Rating of Skyhigh Enterprise-Ready™, meaning that it has been independently found to fully satisfy the most stringent requirements for data protection, identity verification, service security, business practices, and legal protection.
About ProofHQ
ProofHQ is an online proofing tool used by brands and agencies worldwide. It streamlines the review and approval of content and creative assets so that marketing projects are completed faster and with less effort. ProofHQ replaces email and hard copy processes, giving review teams tools to collaboratively review creative content, and marketing project managers tools to track reviews in progress. ProofHQ can be used across all media including print, digital and audiovisual. For more information, please visit http://www.proofhq.com.