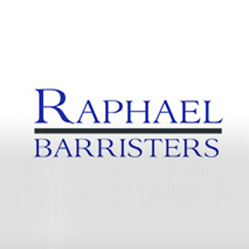 Brain injuries are not always apparent. In some cases, the victim does lose motor skills, the ability to speak, or other apparent injury.
Toronto, ON (PRWEB) August 27, 2014
The legal experts at Raphael Barristers work to inform the public of the dangers of brain injuries. The company has made several posts on the Raphael Barristers blog highlighting brain injuries. As one of the top legal firms in Ontario, the attorneys at Raphael Barristers often work with accident victims who have suffered some form of brain injury. As such, these professionals see brain injury trauma first-hand on a regular basis. Brain injuries can completely change a person's life. These types of injuries can leave a victim unable to communicate, resume their daily lives, or function without the assistance of a caretaker.
Brain injuries are not always apparent. In some cases, the victim does lose motor skills, the ability to speak, or other apparent injury. However, there are some less obvious signs of brain damage that can be difficult to spot. For example, a person who has sustained injury to certain parts of the brain may go through a number of emotional or behavioral changes. Even family members and close friends of the victims may not immediately detect these changes. These personality changes may be permanent, too.
Many of the customers that come to Raphael Barristers have suffered brain damage as a result of a concussion. Many of these victims do not consult a medical expert and believe that the effects of a mild concussion will diminish with rest or over time. However, this is not always true, especially if the concussion is fairly severe. Many people who are involved in small accidents may not feel the effects of a concussion, and if medical personnel are not on the scene, these people may not feel the need to get checked. Due to the fact that there are thousands of accidents in Toronto annually, there could be many people who have lingering effects of brain damage and don't even realize it.
Those who have been in an auto accident are strongly encouraged to see the advice of both a medical professional and a personal injury lawyer. These legal experts can help victims determine if there is a legal case that is worth pursuing. The legal experts at Raphael Barristers strongly urge accident victims to seek legal services after any accident involving personal injury.
About Raphael Barristers:
The personal injury lawyers of Raphael Barristers are based out of offices in Toronto and Thornhill. Founded in 1963, the firm has a number of legal experts who provide services to any in the Ontario area, including those who are certified as specialists in Civil Litigation by the Law Society of Canada and those who serve as Deputy Judges with the Superior Court of Justice. More information can be found at http://www.raphaelbarristers.com or by calling 1.855.594.1812.