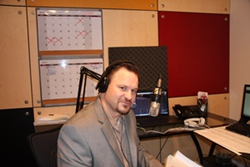 New York, NY (PRWEB) August 27, 2014
Overcoming a turbulent past which branded KC Armstrong as an arrogant failure, he finally found his niche. The Women's Radio Network, WRNW1, has recently signed a multi-million dollar contract with KC Armstrong for his continued support and dedication to the WRNW1 family. KC states, "it is such a great feeling to be able to have such a positive atmosphere." After KC Armstrong publicly announced his appreciation to Howard Stern, the producers on Sirius XM of the Howard Stern show, "Howard 100 News," have decided to pay it forward.
KC Armstrong had the pleasure of being interviewed by Lisa G, a reporter from the Howard 100 News, which aired on Tuesday, August 26, 2014 on the Sirius XM channel 100. KC had the opportunity to interview with Lisa G about his accomplishments, which she was quite impressed with what he provides for WRNW1 as well as becoming the man he is today. KC thanks Howard Stern since without him, he never would have landed his new career at WRNW1. KC's interview will be on Howard 100 News, but is always available on the WRNW1 website.
"Keepin' it Real" with KC Armstrong airs Monday through Friday from 1 p.m. EST to 5 p.m. EST; however, WRNW1 is proud to announce a new show coming your way, "KC Armstrong after Dark"! Starting September 16, 2014 at 8 p.m. EST, KC will collaborate with Marcus Edwards. Every Tuesday night, they will be discussing the top stories that have aired throughout the week and what great advice they have learned from the professionals and entrepreneur's on WRNW1. Besides honoring these amazing women for their astonishing accomplishments, you will also get some great comic relief from these two gentlemen about the shows and what is going on in the world. Callers are always welcomed by contacting (631) 319-1870 for an opportunity to be on "KC Armstrong after Dark Show" with KC and Marcus Edwards.
The WRNW1 is also a proud sponsor of the Avon Foundation for Women. The Avon Foundation for Women helps to support abused and battered women; as well as a research fund for breast cancer. To make a donation and encourage the world to be a safe place you can donate at http://www.avonfoundation.org. On the website you can find additional information about the Breast Cancer Crusade, Speak out against Domestic Violence, a Do It Yourself (DIY) Fundraising event, or donating money to the women all make a difference in our lives.
As women gather together and empower the minds of women all over the world, WRNW1 is there to celebrate women like you. Be sure to visit http://www.wrnw1.com, where additional information on the Women's Radio Network can be found. For all media inquiries or for interviews with KC Armstrong's on his daily show "Keepin' it Real" on WRNW1, please contact Richard Lewis at (631) 605-6185 or send an e-mail to press(at)wrnw1(dot)com.
###