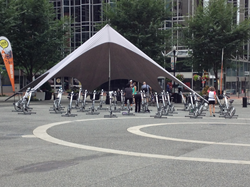 "The idea was pretty simple. Make it easy for potential riders to experience the fun of riding in the Tour De Cure by covering as much of their fund raising minimum as possible
Pittsburgh, PA (PRWEB) August 27, 2014
Cycling Fusion, bringing indoor and outdoor cycling together, today announced that the City of Pittsburgh has approved a first ever virtual cycling event to be held in Market Square, in the downtown area on Friday, September 19th at 8:00pm with an after-party to follow the ride at 10:00pm.
This event is the brainchild of local long-time entrepreneur and founder of Cycling Fusion, Gene Nacey (Coach Gino), who is using his cycling training company to generate contributions for both YMCA membership, and fund raising minimums for the cyclists wanting to ride in the American Diabetes Association's Pittsburgh 2015 Tour De Cure.
Cycling Fusion has a reputation for helping beginners and intermediates move from "exercise" on the bike to "training" for bike events or competition. The programs are designed to be conducted indoors via either live web-casts, or on-demand videos of cycling instructors and coaches leading and teaching bicyclists how to train. Both commercial facilities and single individuals access their content online, whether in a room full of riders on stationary "spin bikes" or in an individual's basement on a bike with a trainer.
"The idea was pretty simple. Make it easy for potential riders to experience the fun of riding in the Tour De Cure by covering as much of their fund raising minimum as possible with portions of our event or program fees. In the process, we can also increase the Y's membership for a least the 3 month Winter Training period (the most popular and efficient time to train indoors)." said Gene Nacey, CCO and founder of Cycling Fusion.
The first event to support this partnership is the Outdoor Virtual Cycling Ride in Market Square on September 19th. As a generous demonstration of higher purpose, Cycling Fusion will be donating 100% of the proceeds to each rider's individual fund raising requirements for the Tour De Cure. That means the $75 rider's fee will be credited towards their Tour de Cure fundraising minimum of $200 a good 8 months before the actual ride.
The second event involved in this strategy is the nationally recognized 12 week Winter Training program by Cycling Fusion that is designed to prepare riders indoors for the challenges of outdoor riding with specific emphasis on preparations to participate in the Tour de Cure. In addition to the 12 weeks of cycling training, participants will also receive a 3 month full membership at any of the Greater Pittsburgh participating YMCAs for the standard Winter Training fee of $290. Additionally, every rider who registers for the Tour and who signs up for Winter Training, will have $100 of their fund raising minimum covered by Cycling Fusion. For riders participating in both the September 19th event and the winter training program a total of $175 of the $200 minimum will be covered from a single source. Together it is an unbeatable value.
"I am a rider myself and I have always enjoyed the incredible camaraderie and fun of the local charity rides. I know that it is usually impossible to do more than one ride simply because of riders not wanting to "go back to the well" to raise funds from the same people for a new event. Instead most of us just ride 1 event per year. This approach makes that issue go away and in most cases will be the first structured training many riders will have ever experienced. With the Tour De Cure being the earliest major charity event of the year, this will also be a great training ride for a lot of my triathletes who have events that begin in June or July. This program gives us an opportunity to train safely and fulfill the YMCA's mission of building stronger communities." said Joe Stabile, Director of Healthy Living at the PNC YMCA.
The 2015 Pittsburgh Tour De Cure will be held on May 17th starting at Seneca Valley High School. It is the earliest charity ride of significant length (there are multiple routes from 10 miles to 60 miles) the area has to offer, and as such, the need to train in the winter becomes paramount.
"We are very excited about this new relationship with Cycling Fusion and the YMCA. Physical activity is critical in preventing and managing diabetes. In Pittsburgh, training through the winter can be a problem for many of our riders and we're thrilled this program is now available to our existing riders as well as those who have wanted to participate, but didn't know how to train. We're grateful that the YMCA will provide the space and technology to bring this program to our community and that Cycling Fusion will help prepare riders for the "ride of their lives" come May 17th. It's a great program and we hope community members will take advantage of it and the opportunity to secure a large portion of the Tour's fund raising minimums through these program fees. By expanding Tour through this partnership, we as a community, get one step closer to Stopping Diabetes. " said Danielle Vetter, Associate Director, American Diabetes Association.
Click here to sign up for the Outdoor Virtual Cycling Event
Click here to sign up for the Fusion Fanatics Tour De Cure Team (with free registration)
Click here to sign up for more information about The Tour De Cure
Click here to sign up for more information about the included YMCA Membership
Key Words:
Indoor Cycling, Spinning, Cycling Training, Tour De Cure, YMCA, Cycling, Virtual Cycling, Cycling Fusion, Biking Training, Winter Training, Diabetes
Cycling Fusion
One Alpha Drive East
Pittsburgh, PA 15238
Contact: damian at cyclingfusion dot com
CYCYLING FUSION
Cycling Fusion® is a company dedicated to bringing the best of indoor and outdoor cycling together through technology, education, and video content. We endeavor to provide everything you need indoors, to improve your riding outdoors. In the local health club we provide comprehensive Indoor Cycling programs, Instructor certification, teaching tools and education as well as sponsoring local racing teams and charity rides. On the national and international scene, we offer a full set of training resources to provide the continuity between the indoor training and the outdoor riding. Cycling Fusion™ aims to bring more outdoor cyclists inside to train, and encourages and equips indoor cyclists to experience the joys and adventure of riding outside.
YMCA OF GREATER PITTSBURGH
YMCA of Greater Pittsburgh: OUR CAUSE DEFINES US - We know that lasting personal and social change comes about when we all work together. That's why, at the Y, strengthening community is our cause. Every day, we work side-by-side with our neighbors to make sure that everyone, regardless of age, income or background, has the opportunity to learn, grow and thrive.
Our Strength Is In Community - The Y is a nonprofit like no other. That's because in 10,000 neighborhoods across the nation, we have the presence and partnerships to not just promise, but deliver, positive change.
Our Impact Is Felt Everyday - With a mission to put Christian principles into practice through programs that build a healthy spirit, mind and body for all, our impact is felt when an individual makes a healthy choice, when a mentor inspires a child and when a community comes together for the common good.
AMERICAN DIABETES ASSOCIATION AND THE TOUR DE CURE
The Pittsburgh Tour de Cure is more than a cycling event, it's a day full of fun and excitement where riders of all levels join forces in the fight to Stop Diabetes® and raise critical funds for diabetes research, education and advocacy in support of the American Diabetes Association and the 29.1 million Americans living with diabetes.
The American Diabetes Association is leading the fight against the deadly consequences of diabetes and fighting for those affected by diabetes. The Association funds research to prevent, cure and manage diabetes; delivers services to hundreds of communities; provides objective and credible information; and gives voice to those denied their rights because of diabetes. For more information please call the American Diabetes Association at 1-800-DIABETES (1-800-342-2383) or visit http://www.diabetes.org.