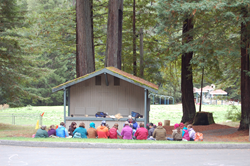 The AEOE Conference is inspirational for those of us in the field all year...to share new ideas and reconfirm our commitment to nature education.~ Desiree Gant, AEOE Conference Coordinator
Boulder Creek, CA (PRWEB) August 27, 2014
Summer is moving along so quickly, and fall is almost here. Here at WOLF School Little Basin the screams of laughter and joy have been a constant soundtrack outside of our office. So many first-time campers are unfolding out of their cars and looking around in amazement at where they've ended up, and all of them say the same thing: "This place is beautiful!"
Little Basin is a family and group campground of Big Basin Redwoods State Park, near Santa Cruz, California. As the newest addition to the CA State Park system, they opened the gates and are hosting thousands of campers and outdoor education students each year. "This Land is Your Land" is the reoccurring theme here and all are excited to be a part of the 150th Anniversary of the CA State Parks.
WOLF School Little Basin is looking forward to hosting the Fall Association for Environmental and Outdoor Education (AEOE) conference in October. A camping conference for environmental educators offering professional development and networking opportunities, the weekend conference will be Friday, Oct. 17 – Sunday Oct. 19 and will feature some great activities, workshops by professional educators and speakers, and social events. Workshops in the past have included bio-regional mapping, insect studies, and adding spark to campfire programs. Participants will have the opportunity to explore Little Basin's 535 acres of Redwood Forest, Native American Grinding Rocks, and hikes that lead to 360-degree views of the Santa Cruz Mountains as well as learn how to be better educators. The Little Basin motto is "Play, Relax, Explore" and that is exactly what Little Basin inspires in all who visit.
To join the fun, get inspired, and learn more, visit https://aeoe.org/events/aeoe-northern-section-fall-conference-2014 and register for the conference. The cost includes camping, two meals, 15+ workshops/field trips, entertainment, campfire and a great time in the redwoods. For more information, contact WOLF School at http://www.wolfschool.org.