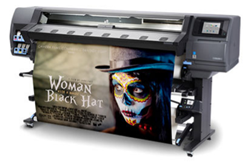 The printing results are durable, better for the environment and all with no additional cost to the customer.
Albuquerque, New Mexico (PRWEB) August 27, 2014
Printers traditionally used for creating trade show display materials have either had good quality but used environmentally harmful inks or have been more environmentally friendly but had poor quality. EXIHIB-IT!, a trade show design and display company, announces the availability of their new printer which has both great quality results and environmentally friendly inks, an HP Latex 360 printer. Exhibitors can now choose, at no additional cost, to have their trade show materials printed using this new, better printer.
Besides being eco-friendly, advantages of the new printer include:

Faster turn-around time
Better ability to color match to the customer's specifications
Ability to print on different kinds of materials for indoor and outdoor use
"The results with the new HP Latex Inks are more durable and safer than what has been used in the past," says DJ Heckes, CEO of EXHIB-IT!. "They are also better for the environment. With no additional cost passed on to the customer, this is really a wonderful way to print."
The HP Latex Inks are non-flammable, non-combustible and nickel free. They have been UL ECOLOGO® and GREENGUARD GOLD certified, which means they meet a range of human health care criteria and produce low chemical emissions, making them safer for people and the environment.
For more information about the new HP Latex 306 printer, go to http://www.exhib-it.com/hp-latex-360-printer.
About EXHIB-IT!
EXHIB-IT! is a design and display company with over 23 years' experience in specializing in high quality trade show displays and trade show management services. Industry thought leader and EXHIB-IT! CEO, DJ Heckes has prioritized customer education as a core company value by publishing hundreds of helpful blog posts, online newsletters, white papers on tradeshow related topics and her first book Full BRAIN Marketing. http://www.exhib-it.com