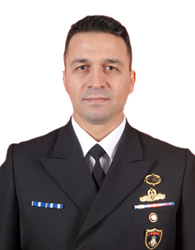 (PRWEB) August 27, 2014
The organizing committee for the Qatar Maritime Security Coastal and Border Surveillance Conference (QMARSEC) proudly announces the confirmation of Lt. CDR Murtaza Durmazuçar as a key invited speaker.
QMARSEC 2014 will be held from the 14 to 15 October 2014 at the Ritz-Carlton in Qatar. Focusing on "Maritime Domain Awareness - The Steps To Maritime Security," this year's conference is expected to explore new avenues for defense and maritime security representatives from around the world. QMARSEC 2014 will be hosted and organized by Qatar National Security Shield Project (NSS) and The Defense Services Marketing Council (DSMC) respectively.
In his illustrious career as a maritime expert, Lt. CDR Murtaza Durmazuçar has served eleven years on different types of ships as guns, guided missiles, and fire/control systems, weapons officer and as a commanding officer. During his tenure in the Turkish Navy, he has worked as an Above Water Warfare Officer at Naval Tactical Development Doctrine and Analysis Center and was also a part of the team that wrote the Maritime Counter Piracy doctrine for NATO. At present, he is working at Maritime Security Branch of Operational Department of the Turkish Navy HQ/Ankara.
Lt. CDR Murtaza Durmazuçar said, "It is a matter of great pleasure for me to be a part of QMARSEC 2014. The role played by this important conference hosted by our Qatar partners towards promoting maritime domain awareness is certainly a timely initiative. I am honored to have this opportunity to share my experience and lessons learned in the Turkish Navy with the attending delegations."
Thanking Lt. CDR Murtaza Durmazuçar for confirming his speaking at QMARSEC 2014, Staff Brigadier (Pilot) Mohammed A. AL-Mannai, Director, Qatar National Security Shield Project said, "Lt. CDR Murtaza Durmazuçar's presence is great news for our annual conference. His wealth of experience as a maritime security professional will certainly help us ensure yet another successful event this year." Highlighting the importance of the event, he continued, "The theme for QMARSEC 2014 is maritime domain awareness. Our experts will share their insights on topics such as maritime security operations, unmanned technologies and offshore patrol assets to achieve maritime domain awareness, maritime reconnaissance and surveillance."
Discussing the topics to be covered in this year's conference, The Chairman of DSMC Matthew Cochran said, "We are honored that QMARSEC delivers on the objective to serve as an incubator and accelerator of partnership within the maritime security community. The conference grows from strength to strength each year thanks to the official support of the Qatari government and regional GCC and NATO maritime partners that attend and use the conference each year as an annual summit to discuss security matters that have global impact."
For more information, please visit the QMARSEC website at http://www.qmarsec.com/.