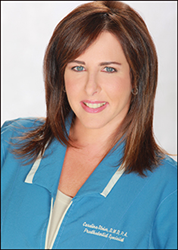 Invisalign is virtually invisible and straightens teeth gently.
Boca Raton, FL (PRWEB) August 27, 2014
Invisalign® is a cosmetic alternative to metal braces that uses clear aligners to straighten teeth. The problems that can be fixed with Invisalign include overcrowding, large gaps, underbites and overbites. Both teenage and adult patients will benefit from the less invasive, gentler treatment. As a Preferred Provider, Dr. Steier has undergone extensive study and training and will continue the ongoing education required of dentists offering Invisalign service.
"Most people - particularly adults - don't want metal braces on their teeth," Dr. Steier commented, "Invisalign is virtually invisible and straightens teeth gently. Plus, the trays are conveniently removed to avoid dietary limitations and provide optimum daily brushing and flossing rewards."
Because having whiter teeth is the most common cosmetic concern with patients, East Boca Dental Implants and Prosthodontics now provides in-house teeth whitening. This procedure involves improving several shade levels in a safe environment to limit discomfort with great results.
"There are a lot of home whitening options on the market these days," Carolina said. "But they do not expect results and can create additional problems. We only use the best materials and make sure to instruct our patients on how to take care of their teeth afterward."
Patients in the Boca Raton area should visit the East Boca Dental Implants and Prosthodontics website regularly for more information about the new services and special offers.
About Dr. Carolina Steier
Originally from Caracas, Venezuela, Carolina acquired her Bachelor's degree at Cornell University and then later graduated from Boston University Goldman School of Graduate Dentistry with a specialty degree in Prosthodontics and Implanthology. Carolina then returned to Caracas and opened her own private practice, which she operated for 10 years. In 2001, she made the permanent move to the U.S. and began to study for her dental boards in order to become licensed to practice in the country. After working in two dental offices in Florida, Carolina decided to open her own practice in 2008. She has recently earned Preferred Provider status with Invisalign® and is dedicated to continue her dental education for the benefit of all of her patients.
For more information about East Boca Dental Implants and Prosthodontics, please visit steierdentistry.com.