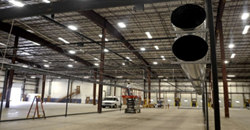 Add a quotableCurrently, cannabis real estate vacancy rates[in Colorado] are around 2%, with market-wide vacancy at 5% or less,
New York, New York (PRWEB) August 27, 2014
As medical marijuana becomes more and more prevalent in our society today, big business has taken notice. With 23 states and the District of Columbia having some form of medical cannabis friendly legislation on their books the time for legitimate ancillary business services has come. While states such as New York and Florida are in the process of determining the finer points of their medical marijuana laws a void of reliable information and services has formed. Like any other legitimate business industry, the marijuana space is in need of reliable, legal, and effective ancillary services that can ultimately aid in the finding of property & existing structures.
In all cases of entrepreneurship, finding the proper location for one's business is essential, and MCN has developed a solution. The Medical Cannabis Network has created workable solution to potential or current entrepreneurs wishing to find space for their own cannabusiness. 420MLS.com is our industries leading source for real estate listings specifically categorized as "420 Friendly".
With the Drug Enforcement Agency in recent years going so far as to threaten property owners where cannabis is being grown or sold with jail time and confiscation of their land, the need for a legitimate and functioning outlet for quality real estate listings was a must. 420MLS allows individuals on any side of this industry to list their property for sale, lease, or rent based traditional real estate metrics. Because individual state and local zoning laws differ across the nation, it is important to have a body of knowledge that allows you to quickly sift through the mud and find the needed information when making your cannabis real estate decision.
The opportunity for success in cannabis related real estate is undeniable. In a recent LadyBud interview, veteran cannabis real estate guru Jason Thomas broke down some of the finer points for those looking to find out more. "Currently, cannabis real estate vacancy rates[in Colorado] are around 2%, with market-wide vacancy at 5% or less," said Thomas when asked how he felt the Colorado cannabis industry was similar to the dot com boom seen a few years ago. According to Thomas, the sheer increase in the price per foot of Colorado cannabis real estate market is something to take strong note of.
"Since January 2014, industrial real estate pricing for sale and lease have increased two to three fold or more. These properties were generally constructed from the 1940s to 1970s and typically lease for around $5.00 per sq. foot, triple net and sell for $40.00 to $55.00 per sq. foot to mainstream companies. Due to the incredible demand and lack of appropriately located properties, these same properties are now leasing for $12.00 to $14.00 per sq. foot, triple-net and are selling in the $80.00 per sq. foot range."
This severe increase in prices illustrates the need for a avenue to develop legitimate and fruitful real estate relationships. 420MLS serves that purpose. Whether it be a cannabis dispensary, medical marijuana growing facility, or doctors office 420MLS has the listing for you! Because the Medical Cannabis Network understands navigating the laws and complexities of the medical marijuana industry can be burdensome, the Medical Cannabis Network has created 420MLS to be a one stop resource for all your real estate needs within the cannabis industry.
Listing your property for sale on 420MLS is fast, simple, and effective. With about 50 calls week regarding the sale of cannabis friendly real estate the Medical Cannabis Network is a leading resource for cannabis related real estate opportunities. If you are a seller, buyer, listing agent, potential or current entrepreneur then 420MLS is a resource you need to have in your arsenal!
For more questions or information regarding listing or buying properties on 420 MLS please contact John Nicolazzo at john(at)medicalcannabis(dot)net or visit http://www.420MLS.com.