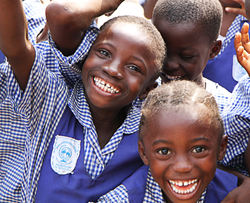 "Attending this fundraising event or donating to The Hope Project is a very specific, direct way people can help with the Ebola crisis in Liberia." - Ron Skylstad, Hope Project Board Member
Seattle, WA (PRWEB) August 28, 2014
Washington based nonprofit The Hope Project will host its biggest fundraiser yet on September 30, 2014 at Fremont Abbey Arts Center in Seattle from 6:30-8:30 p.m. The Seattle community is invited to attend this free event where local musicians Each & All and Jasper T will perform while guests enjoy complimentary Caffe Vita coffee and local beer from Fremont and Georgetown breweries, bid on silent auction items, and compete in a dessert dash. All proceeds from the event will go toward providing decontamination supplies to protect against the Ebola virus, as well as education, clean water, and basic medical care to the students and families connected with The Hope Project School in Liberia, Africa.
The Hope Project and the Ebola Crisis
The Ebola outbreak has been reported within one mile of The Hope Project School in Gardnersville. The Liberian government has ordered a 90-day shut down of schools, government offices, and more. Local citizens are frightened and, for the most part, staying close to home. Stores and markets are experiencing scarcity due to products not being moved around the country. The Hope Project NPO is raising money to purchase food and Ebola-related preventative supplies for each student and their family. "Attending this fundraising event or donating to The Hope Project is a very specific, direct way people can help with the Ebola crisis in Liberia," Hope Project Board Member Ron Skylstad says.
About The Hope Project NPO
Liberia is the fourth poorest country in the world with almost 80 percent unemployment. The mission of The Hope Project is to help end the cycle of poverty in Liberia by operating a tuition-free, Pre-K through 12th grade school. There, children who otherwise couldn't afford an education can go to school, graduate with a high school diploma, and go on to become future community leaders who can contribute to the regrowth of their country. In this way The Hope Project School is currently providing a future of dignity for 1,200 children and their families.
History & Founding
The Nash and Frazier families, who adopted children from Liberia, founded the Hope Project in 2007. During their adoptions they developed a friendship with native Liberian Joseph Cummings. The families asked Joseph what they could do to help him and his community, and he answered, "We need a school. These children are the future of Liberia, and without education they can do nothing for us." With contributions from individual donors in Seattle and Leavenworth, WA The Hope Project has since been providing the means to pay teachers, operate the school, and provide clean water and basic medical care on a monthly basis. The monthly operations budget for The Hope Project is $7,500. Anyone who is interested in this cause is encouraged to attend the Hope Celebration on September 30 to learn more about the work being done by this Seattle nonprofit.
People can find out more, watch videos, and donate to help alleviate the impact of the Ebola crisis at: http://www.hopeproject.org.
Contact Information:
Erin Nash
The Hope Project Director of Development
509-630-0227
erinjoy(at)hopeproject(dot)org
Michael Nash
The Hope Project Executive Director
509-630-2608
nash(at)rah(dot)net
Other contacts are available upon request.