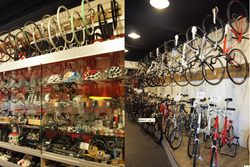 Most bikers would provide numerous lists to consider in buying a mountain bike suspension fork. However, you can minimize the list into just only four factors.
(PRWEB) August 29, 2014
Most bikers would provide numerous lists to consider in buying a mountain bike suspension fork. However, you can minimize the list into just only four factors.
1. Length of Travel: Biking is considered by some as a diverse sport and there are different suspension forks designs for each biking experience. It is indeed important to consider what biking experience you will most likely have before buying a suspension forks such as the following: Cross-Country bicycle offers 80 to 120mm suspension travel, Trail Bike offers a range from 120mm to 140mm, Enduro/All-Mountain Bike offers between 150mm to 170mm while Gravity/Down-Hill Rigs go from 180mm to 210mm.
2. Roll or Control: It is more likely that the more travel you have the harder it is to control your bicycle which makes damping control important. More advanced forks already have compression damping to help the spring slowdown and absorb the impacts. The 2014 version of Rockshox SID (Superlight Integrated Design) uses a Dual Air Motion with a "dual flow" rebound damping. Simply put, it means that the rebound a biker gets over small bumps is not the same as what he gets over big hits.
3. Strength and Weight: Getting the right balance of these two is really important. You must think of how much weight you really need depending on the kind of travel you would like to have. You also must consider the strength which will also depend on the travel and the weight that you choose. Light and tight suspension forks suits cross-country travels (80 to 120mm), while all-mountain bikers must choose a heavier suspension fork. The newer version of Rockshox SID is available for 100mm which suits best for cross-country travel. It is lightweight at 1480 grams which is lighter compared to the previous version at 20 grams.
4. Compatibility: Mot modern suspension forks use tapered steerer tubes which measure 1.5 inches at the crown and 1.125 inches at the stem. There are also different axle standards to consider in buying a good suspension; cross-country travel should have 15mm thru-axle. Longer travel suspension forks for all-mountain and downhill travel frequently uses 20mm thru-axle.
5. Mind the Cost: Truth be told, there are only a few budget forks which delivers smooth performance. A smooth suspension stroke equals a value for money. Damping circuits are also simpler on cheaper models which demeaning control on high-impact hits and multiple hit situations.
These are some suggested pointers to consider in buying a good suspension fork. As an additional tip, consider a company which is already considered as a default standard in bicycle part production. The Rockshox Company had been the standard for bicycle part production since its launch in 1989. The company had been producing and improving suspension forks over the years. The 2014 version of Rockshox SID boasts a sturdier lightweight interface which is the best suspension fork for Cross-Country Bicycle Travel.
About Fibica
Fibica focus on the finest kits, they carefully keep testing and choose all the best parts, giving their customers the assurance that the product they are selling are high quality. Fibica offers the lowest prices for all best kits as compared to other retail stores, allowing their customers to save more. Also, Fibica ships to any address in the world with free postage, customers can track the delivery status of the producyt through internet anytime, Fibica can be one's local bike store.