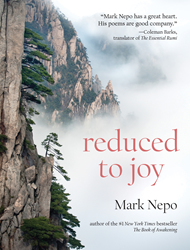 This is the work of reverence: to stay vital and alive by listening deeply.
(PRWEB) August 27, 2014
Mark Nepo, author of Reduced to Joy (Viva Editions 2013), was featured on Inspire Me Today for his insights into the lifelong process of cultivating openness to the messages of the universe. Nepo suggests that "It is only through great love and great suffering that we are exhausted of our differences until our hearts are opened to realize that we are at heart the same." His prose and poetry teach readers "how to uncover that original center and how to live there once it is restored."
Meet Mark Nepo on Oprah's Live the Life You Want Tour:
Auburn Hills, MI
September 12-13, 2014
Join Oprah and Mark at The Palace of Auburn Hills for Oprah's The Life You Want Weekend.
Washington, DC
September 19-20, 2014
Begin the journey. Share in Oprah's The Life You Want Weekend at the Verizon Center.
Newark, NJ
September 26-27, 2014
Experience Oprah's The Life You Want Weekend at Prudential Center in Newark.
Seattle, WA
November 7-8, 2014
Begin the life you want as part of Oprah's The Life You Want Weekend at Seattle's KeyArena at Seattle Center.
What People Are Saying About Reduced to Joy:
"Mark Nepo's Reduced to Joy can change how you approach the challenge of any day."
—Oprah.com
"The title of the collection, Reduced to Joy, is a perfect representation of these fine works for there is joy to be found on every page, in every poem, through every word. This is a book worth owning and keeping and visiting and revisiting."
—San Francisco Book Review
Mark Nepo moved and inspired readers and seekers all over the world. Beloved as a poet, teacher, and storyteller, Mark has been called "one of the finest spiritual guides of our time," "a consummate storyteller," and "an eloquent spiritual teacher." His work is widely accessible and used by many and his books have been translated into more than twenty languages. A bestselling author, he has published fifteen books and recorded nine audio projects. Recent work includes The Endless Practice (forthcoming from Atria, August 2014), Reduced to Joy (the book from Viva Editions and a box set of teaching conversations from Sounds True, September 2014) and Seven Thousand Ways to Listen (Atria), which won the 2012 Books for a Better Life Award. Mark has appeared several times with Oprah Winfrey on her Super Soul Sunday program on OWN TV. Mark devotes his writing and teaching to the journey of inner transformation and the life of relationship. He continues to offer readings, lectures, and retreats.