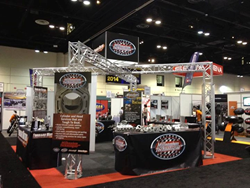 It was no question that we were going to come back.
Plymouth,WI (PRWEB) August 27, 2014
Millennium Technologies, the leader in powersports engine repair and manufacturing, will once again be attending the 2014 edition of the American International Motorcycle (AIM) Expo in Orlando, FL October 16-19.
The AIM Expo is held at the Orange County Convention Center in Orlando, FL and brings OEM's, industry, press, dealers, enthusiasts, and the public under one roof to view new products and provide networking opportunities with exhibitors and distributors. The venue also provides the media with amenities and access to view new product launches.
Millennium Technologies will be bringing its entire family of companies along for this year's AIM trip. The family includes Revolution Performance, Forward Motion, and Ballistic Performance components. Each company focuses on a specific application in the powersports industry such as aftermarket performance Harley Davidson parts, specialized two and four-stroke performance services, and lightweight high power batteries, respectively.
"Last year's trip to the AIM Expo was such an extremely successful endeavor for each company of the Millennium Technologies family tree. It was no question that we were going to come back. We're looking forward to another great weekend to meet and converse with members of the media, industry, and public." said Raleigh Wood, Millennium Technologies' Director of Sales and Marketing.
2014 marks the second year that the Millennium Technologies family of companies will be attending the AIM Expo. All four companies will be under one large booth display, which will encompass booth numbers 701, 703, 800, and 802.
To keep up to date with the latest news from the AIM Expo, see the official website located at http://www.aimexpousa.com.
To learn about Millennium Technologies and it's family of companies visit http://www.mt-llc.com.