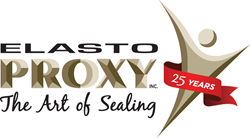 Elasto Proxy is celebrating its 25th anniversary by investing in the future.
Boisbriand, Quebec, Canada (PRWEB) August 27, 2014
Elasto Proxy, leading provider of industrial rubber products, is announcing the acquisition of an infrared (IR) film splicer that strengthens the growing global supplier's already considerable custom-fabrication capabilities. As Doug Sharpe, company co-founder and co-owner explains, "Elasto Proxy is celebrating its 25th anniversary by investing in the future."
Film splicing is a high-quality process for bonding and sealing profile gaskets without inserts. Unlike other joining methods, it creates strong bonds and does not require adhesives. With their fast cycle times, film splices are often used for higher-cycle applications such as door seals and automotive gaskets. Film splicing creates strong corners that won't crack, and is well-suited for taped profiles.
Solving Technical Challenges
As a recent technical article explains, Elasto Proxy is replacing its original film splicer, which the sealing specialists acquired a decade ago. This equipment was state-of-the-art at the time, but required Elasto Proxy's technical team to overcome important challenges. For example, to find a way to cool the part of the clamping mold where the tape is located, a reciprocating water cooler was installed.
This cooling jacket worked well, but film-splice setups were still complex. For some applications, tooling costs also made cold bonding a more attractive option. Cold bonding is precise, but this manual process is time-intensive and naturally subject to inconsistencies. Other splicing methods, such as C-press molding and vulcanizing, offer advantages but are not suitable for all applications.
Acquiring New Equipment
As Elasto Proxy's technical article explains, the company's newly-acquired IR film splicer solves old challenges and offers new possibilities. Instead of heating clamping molds, the IR splicer uses infrared light to heat the entire surface. Infrared splicing uses less energy, produces strong bonds, and supports precise alignments. IR splicing also eliminates manual efforts and avoids PSA or film liner degradation.
Additional benefits include increased press clamping range. Because the molds are three times wider, Elasto Proxy can make 3 to 4 splices at a time instead of 1 or 2, significantly increasing productivity rates. By bonding polyethylene film to EPDM rubber, the company's custom fabrication specialists can also provide buyers with an alternative to molded parts, which can be expensive. Importantly, IR film splicing offers the degree of durability that's necessary for parts such as rubber gate seals and impact bumpers.
About Elasto Proxy
Elasto Proxy designs and custom fabricates specialty seals, thermal and acoustic insulation, vibration dampening products and materials, EMI shielding, and other high-quality rubber and plastic parts. By listening to all of your requirements and analyzing all of your needs, Elasto Proxy's solutions providers can recommend solutions that are right for your application. How can we help you?
Media Contact:
Megan Beaulieu
Executive Support
Elasto Proxy Inc.
4035 Lavoisier Street
Boisbriand, Quebec, Canada
J7H 1N1
mbeaulieu(at)elastoproxy(dot)com
For Immediate Release:
http://www.elastoproxy.com/
Ph: (450) 434-2744