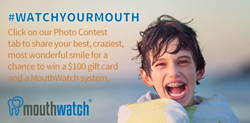 New York, NY (PRWEB) August 27, 2014
MouthWatch, the world's first home dental monitoring system, is giving away a free intraoral camera system and a $100 American Express gift card to the person who shares the best, funniest or craziest smile. Everyone has a great smile, and MouthWatch wants to see it. Send a favorite summer selfie today for a chance to win!
Having the MouthWatch system at home allows anyone with a computer to easily take clear, magnified photos of their teeth, mouth and gums - which can teach kids and adults the benefits of proper home dental care. Users can then securely share these images with their dentist when any dental concern arises, for professional review and monitoring. Save the time that normally comes with a dental visit, unless it's necessary.
Remote monitoring and affordable teledentistry saves time and money for those who have a busy professional life but still want to maintain their oral health and winning smile, in between checkups. MouthWatch's HIPAA-compliant software program allows for easy image capture and sharing from your home computer.
If you're interested in trying out the coolest dental tech gadget to hit the market in 2014, then share a summer selfie today!
The winner will be selected from the top 10 vote getters, and everyone who enters will receive a coupon for $15 off MouthWatch. Upload the photo entry to the Photo Contest tab at: https://www.facebook.com/MouthWatch, or enter via twitter or instagram by tagging your photo #watchyourmouthcontest.