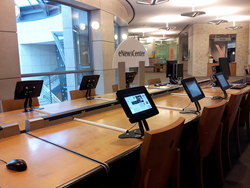 "Students are coming into this semester armed with more mobile technology and more knowledge than any other time in history." - Michon Carrasco
Salt Lake City, Utah (PRWEB) August 28, 2014
Utilizing ArmorActives industry leading iPad kiosks and tablet enclosures, top universities and schools are now integrating mobile technology into the everyday interactions that students have around campus. As students are entering fall semester 2014, there are going to be more tablets and iPads coming with them than ever before. Students are coming into this semester armed with more mobile technology and more knowledge than any other time in history. This creates a need for campuses to be just as up to date as their incoming students. With installations rolling out across the nation ArmorActive is making a name for itself as the durable and customizable solution for higher education.
ArmorActive has created customized products that make tablet integration simple and affordable for IT directors on campuses to install. By creating simple product solutions, ArmorActive can help campuses with anything from simple digital displays to a fully functional study room scheduling system. Utilizing partnerships with leading software developers, room scheduling can be accessed through tablets installed on door frame enclosures that can be powered through an ethernet connection.
As one of the exclusive suppliers of Power over Ethernet products, ArmorActive was able to do an install of over 100 rooms on the Yale University campus that displayed the individual rooms schedule and availability. Coupled with the Door Frame Mini Enclosure and POE accessory, the ability to keep tablets running and functional is easier than ever.
Showing campus maps is another popular integration of mobile tablet kiosks on campus for visitors and prospective students. Wayfinding kiosks placed around buildings highlight features as well as locations of classrooms, labs, and teachers offices. Massachusetts Institute of Technology (MIT) has implemented this type of interactive tablet kiosks throughout their buildings to help visitors and students easily get around.
University libraries are central to higher education learning and what campuses have invested in from the very beginning. Now in the age of the internet and limitless knowledge, universities are finding that providing easier access to resources and study rooms have increased student engagement. Top schools like Baylor University have implemented ArmorActive's products with this system in place and had great success.
Many major universities and colleges have installed tablet kiosks and iPad wall mounts that will be in use by the incoming students. ArmorActive is actively improving and creating products that can be used in higher education and public education buildings. You can read more about the different products and schools that ArmorActive has worked with on http://www.armoractive.com or contact any of our account representatives to get a free product catalog or get a quote on a installation in your school.