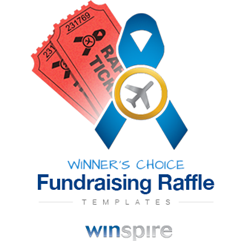 Any size charity can use a raffle to raise thousands of dollars, but they need to have an enticing prize in order for people to spend more money on tickets.
Orange County, California (PRWEB) August 28, 2014
Nonprofit leaders and Development Directors looking for proven ways to raise thousands of dollars for their charities will benefit from the newly released resource that explains the steps for running a successful "Winner's Choice" fundraising raffle. Available from Winspire, Inc., the free guide details best practices for planning fundraising goals, procuring high-valued raffle items, selling tickets and selecting a winner.
Winspire, Inc. began in 2001 as a full-service auction event production company with the goal of helping Nonprofit organizations in the U.S. and Canada maximize fundraising revenue at their events. With over 13 years of in-depth involvement in the fundraising industry, Winspire brings unique insight into running successful raffle programs and why a winner's choice strategy is a charity's best bet for raising the most money.
"Any size charity can use a raffle to raise thousands of dollars, but they need to have an enticing prize in order for people to spend more money on tickets," says Winspire founder and President, Jeff Cova. "Thanks to this guide and experiential travel options, auction committees no longer have to struggle to get quality auction items, and furthermore, are no longer limited to having just one prize."
The free guide for running a successful winner's choice raffle includes the six simple steps of a successful raffle, strategies for determining ticket prices, and how to secure several high-end experiential travel options at absolutely no risk to the Nonprofit. By using the winner's choice strategy and offering several different travel packages to choose from – such as a romantic package, a family-focused package and an adventure travel experience – Nonprofits can attract a larger donor base because more people are likely to bid knowing they can select the vacation they prefer best.
"The entire catalog of Winspire Experiences is available at no-risk, which means your organization doesn't purchase anything until after the winner is declared," explains Cova. "We have partnered with countless charities who have used the winner's choice raffle strategy to raise tens of thousands of dollars with minimal time and financial investment."
Winspire has helped raise over $30 million for charity with Nonprofits leveraging their unique experiences. To learn expert tips and access the guide on how to run a wildly successful winner's choice fundraising raffle, visit winspireme.com.
About Winspire
Winspire provides unique once-in-a-lifetime travel Experiences for nonprofits to use in benefit auctions and charity fundraisers. This increasingly popular fundraising tool allows organizations to place exclusive travel packages in their fundraisers without any upfront cost. Since organizations purchase only those packages they sell, Winspire Experiences can be used without at live auctions, silent auctions, raffles and any number of fundraising events.
Experiences include award shows, major sporting events, VIP access, family vacations, international trips, cruises and hundreds more. Winspire fulfills each and every package for the winning bidders, booking each Experience down to every last detail. For more information, please visit http://www.winspireme.com.