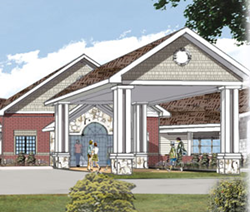 "Kathryn Burton Gray, Adam Sherman and the entire RED team truly demonstrated their flexibility and willingness to work as a trusted partner with Ciena Healthcare," said Mohammad Qazi, CEO of Ciena.
Dallas, TX (PRWEB) August 27, 2014
RED Capital Partners, LLC, the proprietary debt and equity banking arm of comprehensive capital provider RED CAPITAL GROUP, LLC, recently completed a $20.5 million balance sheet loan for Ciena Healthcare for two high-quality skilled nursing facilities, which will provide a total of 236 beds, located in Shelby Township and Lansing, Michigan.
The financing package provides a bridge-to-FHA loan, which includes an earn-out that permits Ciena to increase debt outstanding prior to permanent financing. This structure allows them to increase loan proceeds eligible for HUD refinance as the building's leasing progresses, thereby avoiding potential interim financing that might otherwise be necessary to satisfy HUD's debt seasoning requirements.
"Kathryn Burton Gray, Adam Sherman and the entire RED team truly demonstrated their flexibility and willingness to work as a trusted partner with Ciena Healthcare," said Mohammad Qazi, CEO of Ciena. "Upon engagement, RED monitored both projects; introduced a consistent draw process; negotiated deal and contract terms with our construction service providers, including the GC; and closed the transaction, all without disruption to the construction or funding process." Qazi continued, "Ciena Healthcare was able to begin construction in 2013 prior to the final financing commitment so that the project could progress prior to the harsh Michigan winter season."
Adam Sherman, Managing Director for RED said, "Our relationship with Mr. Qazi has spanned many years. When he approached RED with these two new projects, we were thrilled to work with him again to develop a financing package that matched his needs and allowed him to proceed with the projects while we firmed up details." Sherman added, "Ciena is extremely dedicated to delivering high-quality skilled nursing care at the 34 properties they already operate in Michigan. RED is pleased to support Ciena's continuing progress in upgrading the healthcare services and care environments available to Michigan nursing facility residents by providing a construction financing solution for the Shelby Township and Lansing projects."
***
About RED CAPITAL GROUP, LLC
Recognized for its industry expertise, innovative and comprehensive structures, and consistently high rankings, RED CAPITAL GROUP, LLC has provided over $55.3 billion of integrated debt and equity capital since 1990 to the seniors housing and health care, multifamily, affordable, and student housing industries through three operating companies. RED Mortgage Capital, LLC is a leading Fannie Mae DUS® and MAP- and Lean-approved FHA lender with a mortgage servicing portfolio of almost $18 billion. RED Capital Markets, LLC (MEMBER FINRA/SIPC) is a leader in the distribution of Fannie Mae and Ginnie Mae Project MBS, and provides structuring, underwriting, placement, and advisory services for tax-exempt and taxable housing and health care bonds. RED Capital Partners, LLC provides proprietary debt and equity solutions, and asset management in a range of forms, including subordinated gap and bridge loans. RED CAPITAL GROUP, LLC is a subsidiary of ORIX USA Corporation.
About ORIX USA Corporation
ORIX USA Corporation is a diversified financial company with approximately $6 billion of assets in sectors spanning commercial finance, venture finance, commercial real estate and public finance, as well as $25 billion of assets managed for others. Operating subsidiaries include Houlihan Lokey, RED CAPITAL GROUP and Mariner Investment Group. Headquartered in Dallas, Texas, ORIX USA and its subsidiaries have more than 1,400 employees and offices in major cities including New York, Los Angeles, London and Tokyo.
ORIX USA is a wholly owned subsidiary of ORIX Corporation, a Tokyo-based, publicly owned international financial services company with operations in 35 countries worldwide. ORIX Corporation is listed on the Tokyo (8591) and New York Stock Exchanges (IX). For more information on ORIX USA, visit http://www.orix.com.
DUS® is a registered trademark of Fannie Mae