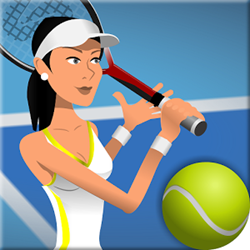 San Jose, CA (PRWEB) August 27, 2014
Stick Sports published a document designed to illustrate the impressive qualities of the Stick Tennis app now that it is optimized for Intel® Atom™ tablets for Android*. The brochure reveals the unique and exciting features of the game aimed at courting tennis enthusiasts and gamers alike.
The document describes the various competitive modes, the realistic animation based on actual physics and the interactivity that syncs up with real world tournaments. Gamers will delight in choosing from over 70 world-class personalities and notice that the game actually encourages personal court style and improvement.
The brochure notes that the stunning graphics and social elements of the game are enhanced for lightweight, responsive tablets. Sensitive touch screens and sensory gameplay provide a rich and exciting experience for seasoned gamers, beginners or tennis players.
About Stick Sports:
Stick Sports Ltd is an app developer that focuses on sport gaming. They are based in London, England with offices in Sydney, Australia. For more, visit: http://www.sticksports.com/