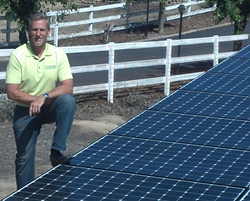 Americans and TVA ...making a big impact on the solar workforce and an even bigger impact on the lives of our veterans
Murrieta, CA (PRWEB) August 27, 2014
"This is a big day for TVA," said TVA's president, Steve Fulgham. "The 501(c)(3) status give us the ability to raise funds, grow the program and put more vets to work. We are now able to receive monetary and in-kind contributions which are tax-deductible for donors. Americans are patriotic, and Americans are generous. I look forward to Americans and TVA making a big impact on the solar workforce and an even bigger impact on the lives of our veterans."
The new tax status will lend significant support to the TVA mission, which grew out of a response to government decisions to reduce the size of the U.S. military, the need for recently and soon-to-be separated veterans to find viable jobs, and the growing lack of high-quality workforce in the solar photovoltaic industry. TVA takes disciplined, hard-working veterans, analyzes their skill sets, educates them, and supplies workforce for renewable energy companies throughout the United States of America.
Currently, TVA offers an Entry Level Solar PV Design and Installation course, based on the curriculum provided by the North American Board of Certified Energy Practitioners [NABCEP]. Facilitating the training is TVA's training partner, Ambassador Energy in Southern California, where after 32 hours of classroom education, the NABCEP Entry Level Exam is proctored.
Interested U.S. veteran candidates and contributors should visit The Veteran Asset's website for course details and donation options.
About The Veteran Asset
The Veteran Asset [TVA] is a tax-exempt nonprofit 501(c)(3)organization, whose mission is helping U.S. military veterans (Active/Guard & Reserve), obtain careers in the renewable energy sector. TVA recruits, facilitates top-notch Solar PV training and ultimately provides placement services - at no cost to the veteran.
About Ambassador Energy
AE is comprised of Ambassador Energy College Solar Training, the Ambassador Energy Agency Program and the installation arms, Ambassador Energy and Ambassador Solar. On staff are NABCEP Certified PV Installers, NABCEP Certified PV Technical Sales professionals [Fulgham/Kelso] and multiple NABCEP EL graduates. AE holds California licenses General Contractor B, C10 Electrician and C46 Renewable Energy. Ambassador Energy is IREC/ISPQ accredited. AE Agencies are nationwide. Ambassador Energy installs residential and commercial PV systems throughout California and the US.