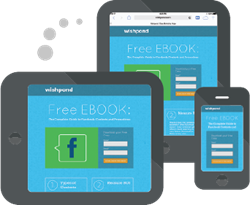 After seeing how hard it was to create a mobile-responsive landing page from scratch, and the inability of current tools on the market to do this well, or at all, we knew we had to create a tool that made it easy. - Ali Tajsekandar, CEO of Wishpond
Vancouver, BC (PRWEB) August 27, 2014
Wishpond, the the all-in-one marketing suite that makes it easy to generate and nurture leads, today officially announced a brand new tool in its comprehensive marketing suite. The new and simple-to-use landing page builder enables marketers to create mobile-responsive landing pages in minutes, without I.T.
Wishpond's landing page builder comes loaded with more than 40 flexible templates that are easy to customize using a visual WYSIWYG editor, as well as with advanced CSS and Javascript options. These templates make it easy to create a number of different kinds of landing pages, including ebook landing pages, webinar registration pages, coming soon/launch pages and more.
Wishpond landing pages also come equipped with robust lead-generation forms, that have the ability to add an unlimited number of fields, including checkboxes, multiple choice radio buttons and dropdown menus. Wishpond's retargeting tool allows marketers to recover lost leads who abandon their landing pages through web retargeting ads. These tools work together with just a click - and no additional coding. Wishpond landing pages also include the option to remove the lead-generation forms and just have click-through buttons.
The built-in A/B split testing feature allows marketers to test and compare multiple variations of their landing pages against each other. This allows marketers to test which messaging, images and even different form fields result in the best conversion rate.
Wishpond landing pages can be published to a number of different places online: Custom domains, embedded on websites, Wishpond-hosted subdomains, Facebook Pages, Twitter and Wordpress sites. And no matter where a Wishpond landing page is published, it will work on all mobile and tablet devices, no matter the size or operating system of the device.
The landing pages tool comes with built-in analytics reporting to track performance in real-time. Landing page leads are captured and segmented in Wishpond's Leads Database. And Wishpond's Email Marketing Automation tool allows marketers to send automated emails to leads captured from their landing pages. Leads can also be exported automatically to popular tools like Mailchimp, AWeber, Constant Contact, VerticalResponse, GoToWebinar, and more.
"After seeing first-hand how difficult it was to create a mobile-responsive landing page from scratch, and the inability of current tools on the market to do this in a flexible way, or at all, we knew that we had to create a tool that made it easy for marketers to do it," said Ali Tajsekandar, CEO of Wishpond. "And the seamless integration of Wishpond landing pages with all of our tools gives marketers the power to easily execute end-to-end marketing campaigns, without having to use tons of siloed platforms."
The landing pages tool is just one of many lead-generation tools from Wishpond. The company has been developing new tools and features at rapid speed - and quickly acquiring customers globally - including website popups, online forms, and retargeting ads.
While there are hundreds of other platforms that provide siloed tools for certain pieces of a successful marketing campaign, Wishpond is one of the few that offers all of the tools in addition to educational resources in one easy-to-use suite. Wishpond makes it easy for marketers to create landing pages, contests and promotions, website popups, online forms, ads, and email marketing automation campaigns at the click of a button, and easily manage leads and segment them by firmographics and demographics.
About Wishpond
Wishpond is an all-in-one marketing suite that brings all of the tools a marketer needs under one, integrated, platform. Wishpond tools work seamlessly together, saving marketers time and money, with complete campaign reporting across all channels in one dashboard. With over 100,000 business customers worldwide, in 44 different languages. Wishpond's integrated suite empowers marketers to attract leads with online advertising, capture them with landing pages, manage and segment leads in a simple database, and nurture them into sales with automated emails.