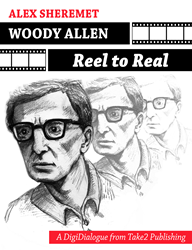 "The advent and popular uptake of eBooks finally provides the platform to open up the publishing world to new forms and factors and DigiDialogues have been specifically formulated to perform the task of enjoining the readers into the publishing process."
New York, NY (PRWEB) August 27, 2014
Take2 Publishing is proud to announce the launch of its first DigiDialogue, a process and a product that results with a published eBook where the dialogue between the author and the audience becomes part of the final 'copy'.
Alex Sheremet presents one of the most thorough and considered critiques on Woody Allen's body of work … but his text is only part of the full story. DigiDialogues are about the author inspiring a discourse between and amongst himself and his audience.
The genesis of this DigiDialogue is the Woody Allen: Reel to Real website, the vehicle to have Sheremet and his 'readers' further explore, expand and explain the theses he presents. On this site, one will find a combination of: faithful summaries of the key chapters of the book, one key chapter of the book in its entirety, and web-only content that through discussion will also be included in the final book. All the content on the site is married to a dedicated 'Comment Box' to propagate the dialogue.
According to Sheremet, "A critic's job is to be an intermediary, to explain how a work of art succeeds or fails as a work of art – not merely to give an opinion. And, these days, there's entirely too much opinion, too much of a need to seem 'relevant', and not enough sound argument and evidence."
"On the one hand, 'populist' critics such as the late Roger Ebert, often write from personal biases, deriding films like Stardust Memories due to their own emotional reaction. Then, there are the more 'academic' types such as Jonathan Rosenbaum and Ray Carney, while decrying such populism in others, in fact have their own particular axes to grind." Thus criticism breaks down, and art suffers, and I aim to rectify that," he continued.
"I'd like to see people of intellect and discrimination read my arguments, think 'Hey, this actually makes sense', and feel affirmed that someone's articulating what is often thought, but is rarely expressed -- especially on an artist as contentious as Woody Allen. This process is all about dialoguing with them", he said.
In this vast new world of interactive content, it has become second nature for readers to place their own comments at any article or column they come across on-line, but this simple concept and technology has bypassed the 'staid' world of book publishing.
According to John Pruzanski, Managing Publisher at Take2 Publishing, "We don't believe that needs to be the case."
"The advent and popular uptake of eBooks finally provides the platform to open up the publishing world to new forms and factors and DigiDialogues have been specifically formulated to perform the task of enjoining the readers into the publishing process."
"Everyone has an opinion of Woody Allen, whether those opinions come from a learned perspective, or from the tabloids … and Sheremet's excitingly exhaustive analysis is the perfect fodder to generate and further this unique form of dialogue", he said.
It must be acutely noted that the Woody Allen: Reel to Real website, although faithful to the theses presented in the full Sheremet text, actually contains only 25% of the final content of the eBook. The published work will contain much more in depth analysis by Sheremet on all the topics raised as well as including the best of the dialogue this site engenders.
Look for the eBook later this year, but in the meantime, join the discussion at the website immediately and become part of the publishing process.
About DigiDialogue
A DigiDialogue is a process and a product that results with a published eBook where the dialogue between the author and the audience becomes part of the final 'copy'.
The process to develop a DigiDialogue involves two distinct elements. The first is an interactive online representation of an authors work designed to generate an on-line dialogue between the author and the participatory audience. The second element, the product, is a published eBook that incorporates the author's full work as well as the dynamic discourse that was generated online from the author's excerpts.
You, the 'audience' become part of the authoring and publishing process.
About Alex Sheremet
Alex Sheremet is a young writer from Belarus. A poet, critic, and novelist, he became interested in film as a means of furthering his own art, and chose to stay because of everything else that film has taught him.
His first novel (A Few Streets More To Kensington) deals with the classic tropes of childhood as transplanted over to the streets of Brooklyn, and as seen through an artist's reluctant gaze. Brothels, video games, femme fatales, violence, 9/11, and Orthodox Jews abound, for while this may not have been your reality, it certainly was the artist's, and that of many others. The book, therefore, subsists on the 'magic' of the 1990s, and remains one of the few comprehensive depictions of that era -- even as it transcends it, too.
Alex's second book (Doors & Exits: Some Cues From A Study Of Two Extremes) is a 'docudrama' that probes the follies and accomplishments of the 21st Century, all within the world of a single, fictional school in New York City. But while the 'place' may be a fabrication, its conflicts are not, for its characters (kids, teachers, and those somewhere in between) have a reality someplace, somewhere, and will repeat themselves -- ad nauseam -- for as long as we're recognizably human. This is the little-known difference between Truth and Reality, and Alex's novel straddles both.
Woody Allen: Reel To Real is Alex's third book, and is the summation of what he's learned thus far in cinema. His style of criticism is straightforward, beginning with a single assertion: that art can (and should!) be evaluated, and that a critic's job is above all to evaluate. His hope is that the reader will come away knowing more of art and cinema as a whole, and be able to apply these ideas to new art-works in a way that's logically consistent and self-sufficient, all the while avoiding the common pitfalls of artistic criticism. Woody Allen's films are especially conducive to this view, for while not everyone has thought, felt, or suffered what his characters live through, Woody's creations still depict reality -- however small a portion -- and subsist within it. To miss this is to miss the work, and simply be left with one's own biases and limitations.
Alex graduated Valedictorian of Macaulay Honors College in New York City with a BA in Classical Studies, English, and Education. His work has appeared on Cosmoetica, BlogCritics, Scholastic, and other publications. Alex lives in Queens, NY with his wife, and is currently working on a book-length poem about his experiences in the USSR.
About Take2 Publishing
Take2 Publishing is a specialist compilation publisher dedicated to the digital space.
Its books are made up of already-published articles, whether they are found on-line, or from books, magazines and newspapers, paying particular attention to the wonderful writings, their authors and sites, that at the moment are not getting anywhere near the attention they deserve.
All Take2 books must maintain a traditional linear narrative in form, not necessarily of time and place, but of ideas and opinion and be imbued with one overriding primary directive … to add substance to the discourse on the subject.
There are four book series in development including The Take2 Guides (for those too smart to search), Cities in Cinema, Sci-Fi Onscreen and the DigiDialogues.
It is not just a dedicated publisher of books as 'bits and bytes', but is also one of the world's first virtual publishers. Although centered in New York, Take2 Publishing employs editors, copy editors, researchers and more in cities all over the world, including New York, London, Melbourne, Tel-Aviv, Kiev, St Louis, San Diego, Los Angeles … and many more.
All Take2 books are published in all recognized digital formats and are available at all key eBook retail sites including Amazon, Kobo, Nook Press and Apple's iBookstore.
Take2 Publishing also maintains its own online retail store for direct purchases in all formats.