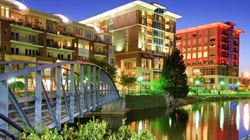 Greenville, SC is the 'full package' – it's a great place to choose whether you're a retiree looking to relocate and enjoy your golden years or you're a young professional looking for a quality area in which to build your life.
Libertyville, IL (PRWEB) August 27, 2014
When relocating at retirement, today's Baby Boomer home buyer is looking for a location that offers an ideal combination of a number of factors, including diverse cultural and educational opportunities, an environment conducive to an active lifestyle, a year-round temperate climate, abundant dining and entertainment options, a strong and diverse economy, and access to excellent healthcare. Greenville, SC, ticks off all these boxes, making it an appealing location for relocating Baby Boomer retirees.
"Here's an example of the true impact elected officials can have on their city and its residents. Mayor Knox White of Greenville has been creative, insightful, passionate and effective in elevating Greenville as a city - economically, aesthetically and overall, making Greenville, SC an enjoyable and vibrant place to both live and work," said Marian Schaffer, Principal and Founder of Southeast Discovery, a company that helps buyers actively looking for a retirement or second home in the Southeast find the right area and community to call home.
Greenville has earned many accolades over the years, frequently ending up on "Best Of" lists. A few of the city's many notable mentions include "Favorite Unexpected Vacation Destination" from O, The Oprah Magazine, one of "50 of the World's Last Great Places - Destinations of a Lifetime" from National Geographic Magazine, "The Best Places for a Working Retirement" from Forbes, "The South's Tastiest Towns" from Southern Living Magazine, one of "America's Top Places for Boomers to Retire" from CNBC, "2013 Best Places to Retire" from AARP, and "America's 5th Most Fun, Affordable City" by Bloomberg Businessweek, to name a just a few.
After over a decade of assisting relocating Baby Boomer retirees identify the right area and community to call home, Southeast Discovery finds the following six factors to be significant in making Greenville, SC such a desirable choice for relocating retirees:
Robust Economy
Greenville is in a designated foreign trade zone and boasts the highest level of foreign capital investment per capita in the nation. That designation has helped make it home to more than 250 international firms from 26 nations, including BMW and Michelin. Other major businesses include Bausch and Lomb, the Perrigo Company of South Carolina, Greenville Hospital System, Fluor Corporation, Ernst and Young, IBM, Charter Communications, Dunlop Slazenger Group, Liberty Corporation and Bank of America.
Affordable Cost of Living
Greenville's cost of living is 6% less than the state average and 9% less than the national average. According to the National Association of Realtors, the median value of a single-family home in 2010 was a moderate $145,000.
Access to Cutting Edge Healthcare
Greenville offers advanced health care services to meet a range of needs. The Greenville Hospital System University Medical Center (GHS) has six facilities in the Upstate, including Greenville Memorial Hospital, which offers services including a cancer center, children's hospital, gastroenterology diagnostic services, a heart institute, a rehabilitation hospital and women's hospital. A Level 1 Trauma Center, Greenville Memorial is also a research hospital offering patients access to many clinical trials and cutting edge care. U.S. News and World Report listed Greenville Memorial in the top 50 in its list of America's Best Hospitals for 2009-2010.
Abundant Higher Education Opportunities
The Greenville community is home to a dozen colleges, universities and technical schools. Furman and Clemson Universities are affiliated with the Osher Lifelong Learning Institute, a network of more than 120 sites across the country that provides courses, social events and travel opportunities for mature adults. Greenville also has a unique consortium involving seven regional colleges and universities called the University Center of Greenville. The teaching and learning center is designed for working adults who want to pursue four-year graduate-level degrees with most courses offered in the evenings.
Parks and Recreation
The City of Greenville has 39 parks and recreation centers that include miles of bike and jogging trails, a downtown green area that winds through the city, and many playgrounds, picnic shelters and ball fields. Three notable recreation options are Falls Park, which encompasses 20 acres of gardens and is home to Liberty Bridge, a 355-foot-long, 12-foot-wide, curved suspension bridge; Swamp Rabbit Tram Trail, a walking/biking trail that runs along the Reedy River; and Paris Mountain State Park, a 1,500 acres park that features a 15-acre lake for fishing, kayaking or canoeing.
Vibrant Arts and Entertainment Scene
Cultural and artistic venues and offerings in Greenville rival those of much larger metropolitan areas and add to the appeal of the community as a relocation choice. These include The International Center of the Upstate, offering programs, language classes, workshops, and social events; The Greenville Cultural Exchange Center, which focuses on historical research and education, and includes exhibits, archives, guided tours and meeting spaces; The Greenville Symphony Orchestra, which offers concerts throughout the year; Heritage Green, an urban arts and cultural campus and home to three art museums; and The Peace Center for Performing Arts, which hosts the Greenville Symphony Orchestra and the Carolina Ballet Theatre.
"I would describe Greenville, SC as the 'full package' – it's a great place to choose whether you're a retiree looking to relocate and enjoy your golden years or you're a young professional looking for a quality area in which to build your life," said Schaffer. "Greenville, SC offers attributes that really appeal to all people, both younger and older."
About Southeast Discovery
Since 2004, Southeast Discovery has been a trusted resource for candid information and insight on communities, developments, and general real estate in the Southeast. Through its highly-ranked web portal, newsletter and blog and its one-on-one work with clients, Southeast Discovery helps buyers actively looking for a retirement or second home in the Southeast navigate the process of identifying the right area and community for their needs. To learn more, visit http://www.southeastdiscovery.com/.